---
Product Overview:

Over the years I've been fortunate enough to have the opportunity to test and review several tires for various applications and conditions. I tend to favor a tire that can perform on or offroad, mud, snow, ice, and any conditions mother nature tends to send our way. The more aggressive tires based toward strictly rock-crawling or mud typically handle horribly on-road or in some of the conditions above.
Project Willy's being a daily driver based vehicle with serious offroad capabilities demands a tire that can successfully perform in any condition. Just recently Big-o-tires developed and released a new all-purpose tire to add to its collection, the Bigfoot XT. We recently installed a set of 33" Bigfoot XT tires onto our new project Willy's for testing.
Tire Performance in various conditions:
|SNOW|

Project Willy's is primarily driven daily on the street with snow, ice, sleet, and muddy conditions being a common occurrence in the winters months at our location. I have to say I have been impressed with the performance of these tires in deep snow conditions. Recent storms brought upwards of 12-18" of fresh snow. I got out onto the roads before the snow plows did allowing us to blaze fresh tracks through the powder. These tires did great in the snow, excellent cornering capabilities as well as up hill and down hill control.
Notice how the tires never packed with snow. This tread pattern allows the snow to be discarded to maintain optimum traction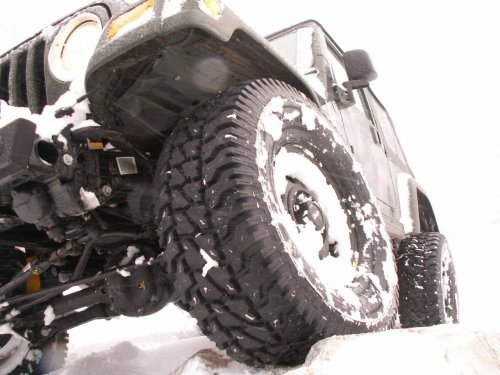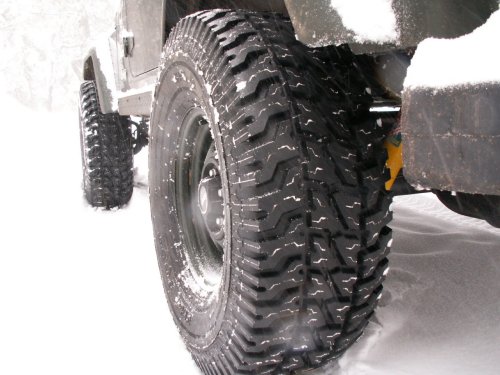 |MUD|

Fortunatly we were able to test these tires in some good mud conditions. Our local area usually doesn't allow us to do much mud wheeling but this year has been exception with all the major rain fall we've received. We headed out looking for a good mud swamp to get ol Willy stuck in. Needless to say we managed to get it stuck all right. The last mud pit on this trail claimed Willy requiring a little tow from a buddy. The mud had the consistency of peanut butter and was the type of mud that sucks to your car. It only took one pass through this mud pit before our TJ was flopped on its belly stuck to the mud. We didn't even have a chance to get out, this mud sunk our Jeep like quick sand. This part of the trail was an exception considering the entire day of mud and snow wheeling was great, the tires took our Jeep places we thought were impassible. The Big Foot XT's seemed to work pretty good in the mud flinging mud everywhere as the tread pattern released the mud before allowing it to pack in.

I wasnt stuck in this picture, but it sure was some peanut butter type mud.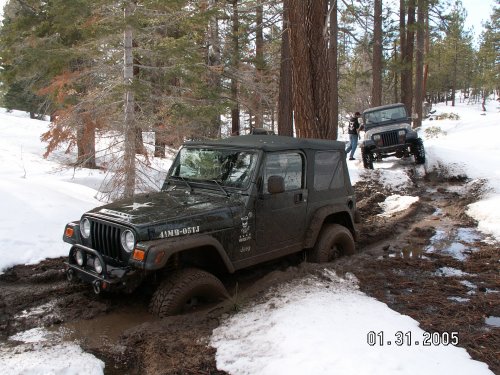 These tires unloaded the mud pretty good, one of the mud test was like peanut butter though. Even at high rpm's the tires loaded up and were pretty tough to clean out. We actually managed to get project willy's stuck in one of the pictures above. The mud was so deep the belly of the Jeep sat down on the mud allowing the tires to spin as though they were off the ground.
|ON-ROAD|

The Big Foot XT's have a distinctive tread pattern which creates a quiet smooth ride for a semi-aggressive all terrain tire. I was surprised how smooth and light these tires felt especially for a 33's. The road handling is very positive when cornering windy mountain roads and has a sticky feel to the tires. Surprisingly the Jeep handles and corners better than when it was stock. Tread wear seems to be pretty good as well. We've put about 3k miles on these tires with no tread wear or rounding. Curious to see how many miles we get out of these tires. Im used to getting about 15k out of most our project vehicles tires, I think these ones are going to last about twice that.
Other common daily conditions: Our vehicles are subjected to constant testing because of our mountain location. We are located in a mountain range at about 5700ft. elevation were snow, ice, and rain are very common throughout the winter months. I have been amazed with how well these tires do in the ice as well. Our roads are known for what we refer to as "black ice" which can be extremely dangerous. I have been very happy with how well the XT's do in the icy conditions.
Conclusion:
Overall we are very pleased with the Big Foot XT's performance in all conditions. The tires performs great for the average offroader with daily driving being there primary purpose. Good all around tire in every condition we tried them in. Definitely recommended to anyone seeking a good quiet on road tire with great overall handling and performance in any condition including dirt, rocks, mud, snow, ice and rain.

Big-O-Tires offers this tire in several sizes for various application. Check out there website for more information or to locate a dealer near you.
Our Rating

Contact Information:

1-800-321-2446
www.bigotires.com