Rock/Trail Test:
Testing the Discoverer STT's was performed on our local rock-crawling trails in Big Bear California. These trails offer great rock gardens, ruts with the occasional stream crossings and miles of excellent trails. We test the majority of our products on these trails and they provide a great testing ground for similar products such as tires. These STT's worked great the entire day. Project Willy's traction was excellent and pretty much equal in all trail conditions. The additional sidewall tread hooked up great when the tire was ready to slide off the rocks. The rock gardens were a breeze with a noticeable difference from our last set of tires. These tires provided outstanding traction especially when we dropped the tire pressure to 13lbs.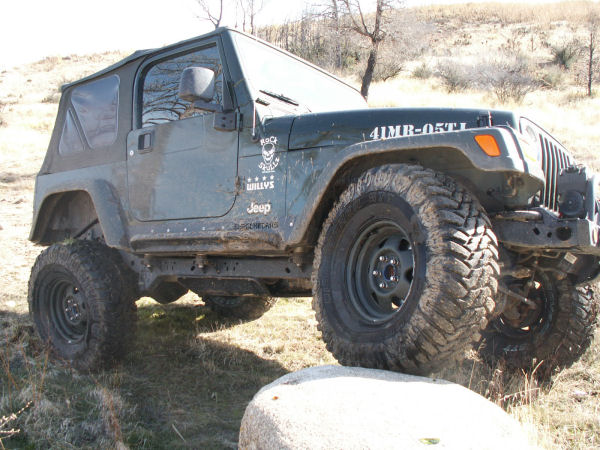 Snow Test:
A recent storm brought about 8-10" of snow to our area in which we were sure to head out onto the streets before the snow plows cleared the roads. The STT's hooked up great in the snow and seemed to float right over the top. In the deeper snow and climbing hills the aggressive tires dug down to the street and kept pulling through. We were impressed with the snow performance since the snow we typically get is slushy wet heavy snow with a layer of ice on the bottom.

Mud Test:
After the snow melted and the trails soaked up the water everything was muddy and sloppy with a thick peanut butter consistency that stuck to everything. Needless to say we headed out to our local stomping grounds for a little mud wheelin. The STT's packed the mud in pretty hard but were unloading the mud as fast as it was picking it up. The tires were especially throwing mud all over the place. The aggressive tread dug into the mud and fist full sized chunks of mud were flipping through the air going up some of the hills. None the less the tires worked well in the mud and provided enough traction to keep pushing through.

Road Test:
Since project Willy's is based on a project vehicle that sports both good street characteristics along with great offroad performance we very pleased with how quiet these tires were on the street, especially for being a 35" tire. In fact these new Discoverer STT's are quiter than Goodyear MTR's BFG Muds, and other popular offroad tires in the same class. Street traction was also good with great cornering and stopping. Even in the rain these tires felt right at home providing no tire slipping or drifting around corners.