Introduction:
Want more power out of your 4 liter? and still meet emission in all 50-states. How does 260 horsepower and 295 lb. of torque sound? Well Golen Engine can offer it. With there new line of 4.6L stroker longblocks for any year Jeep 4 liter replacement you could replace that tired old 4.0L with something worth replacing it with. Golen not only offers a over 70hp more power and a hell of a lot more torque but they also build these engines for daily drivers. This isn't a totally tricked out stroker engine that has been so tweaked its lost reliability and loss of engine life. Golen builds there engines with not only performance in mind but reliability. This engine will last and provide reliable horsepower like any 4.0L replacement longblock.

We were fortunate enough to recently install one of these longblocks in project Rock-Spider after recently blowing up the factory engine after 15-years of use and over 110k miles of high revving abuse. In this article we will describe some details about Golens engine as well as touch base on our impressions of there 4.6L stroker engine.

4.6L Longblock Spec's / Features:
(Engine spec's provided by Golen)

Jeep 4.6L / 260hp Long Block
Peak Horsepower:
260 bhp @ 5000 rpm
Peak Torque:
295 lb/ft @ 4000 rpm
Operating Range:
1400 - 5700 rpm
Compression Ratio:
9:1
Required Fuel:
91+ Octane Pump Gasoline
| | |
| --- | --- |
| Specs: | |
| Block: | Thermally cleaned and Stainless-Steel Shot. Inspected by MPI process. Decked, bored, honed with torque-plates and pressure washed. Clevite cam bearings and pioneer brass freeze plugs installed. |
| Crank: | Performance Ground Factory crankshaft, Micro Polished and Oil Holes Chamfered |
| Rods: | Jeep Steel Rods, Shot Peened for Strength, Resized with New Performance Rod Bolts |
| Pistons: | Speed Pro HyperEutectic |
| Rings: | Speed-Pro Plasma-Moly |
| Bearings: | Clevite Main and Rod Bearings |
| Core Plugs: | Brass Pioneer Core Plugs |
| Lifters: | Comp Cams Hydraulic |
| Pushrods: | Comp Cams |
| Rocker Arms: | Comp Cams |
| Timing Set: | Dynagear Performance |
| Oil Delivery: | Melling High Volume Pump, Pickup Tube and HD Drive |
| Gasket Set: | Fel-Pro Performance |
| Head Bolts: | SBI Performance |

Cam:
Manufacturer: Comp Cams
Type: Hydraulic Flat Tappet
Operating Range:
1400 - 5700 rpm
Idle Quality: Fair
Duration:
Intake: 218° @ .050"
Exhaust: 226° @ .050"
Lift:
Intake: .493"
Exhaust: .512"
Lobe Seperation: 111°

Heads:
Type:
Jeep Factory Iron, Three Angle Performance Valve Job, Bowl Ported, Valves Back Cut, New Guides
Combustion Chamber:
62cc
Intake Runner:
155cc
Intake Valves:
SBI Steel
Exhaust Valves:
SBI Steel
Installation:
Installing the 4.6L started on a cherry picker. After the engine arrived at our door in a wooden crate we disassembled the crate and lifted the long block with our cherry picker. We wanted to assemble as much of the engine as possible before sliding into our wrangler. This will make it a lot easier since there is more room to get to things and will later result in a faster installation. We started by installing the factory 4.0L motor mount brackets from a donor engine. Because of the extreme amount of horsepower gained we knew a heavy duty set of motor mounts were going to be required. We were currently running 1" lifted Currie motor mounts but the polyurethane provided more vibration from the engine than we liked. So we called MORE offroad inquiring about a set of there Bomb Proof rubber motor mounts that will not only withstand the engines heavy torque and horsepower but they too offer 1" of lift. These are the mounts we installed on our stroker. Next step we mounted the oil pan and timing cover. This was our most timely procedure. The last thing you want is a leaky oil pan on your new engine, and since pulling it back off while its in the Jeep will be more difficult we took our time and carefully mounted the oil pan to ensure there would be no leaks. The Pan we used for our stroker was pulled from our 1990 4.2L block. The 4.2L oil pan is preferred over the 4.0L pan because it provides a slightly deeper pan which is necessary to accommodate for the bigger high volume oil pump the stroker comes with.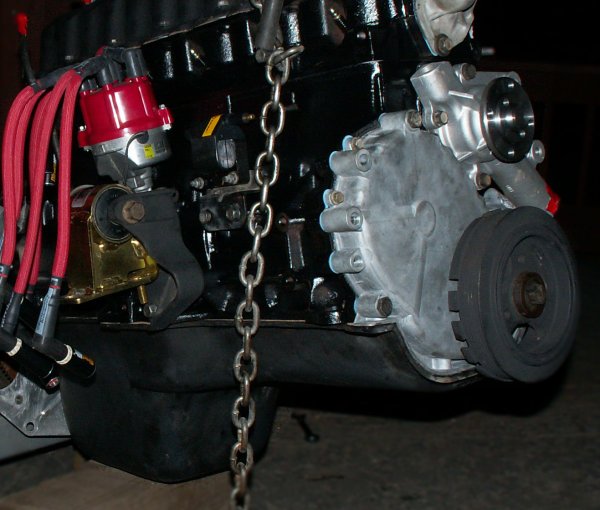 Next step was installing the water pump and thermostat housing. These are obviously not very difficult to install while it in the Jeep but we went ahead and bolted them in place anyways. We even slide the Performance distributor in for now. The distributor will obviously have to be positioned and installed properly later but that will be one of the last steps just before we fire it up.

The Valve cover again was provided by a donor vehicle engine we had laying around. We opted to put a flashy aluminum or chrome cover on but we prefer the simple flat black. The chrome covers just look cheap and don't provide anything except they'll show dirt and grease more later on.

After everything was assembled except for the header and intake manifold it was time to slide the engine/tranny and transfercase in all at once. With a little finesse and a couple attempts the engine slide into position and was mounted down to the frame. Now it was time to wire everything up. Since our last engine was a 4.2L running an MPI injection kit. We went ahead and used this same wiring harness, sensors and ECM that the MPI kit originally came with. The MPI kit is based off a 95' 4-liter Jeep engine and would have no problems working on this new longblock.

Other Performance Modifications Added:
We went ahead and added some other performance modifications to our Golen Stroker while we were building it up. Not that it wasn't going to produce enough neck snapping power as is but we found some nice products to add to it.

As a result I think these modifications added another 10-15hp or so to our stroker engine. These are conservative figures but are probably reasonable as far as gains. We'd like to get the engine dyno'ed one of these days to see what its really putting out.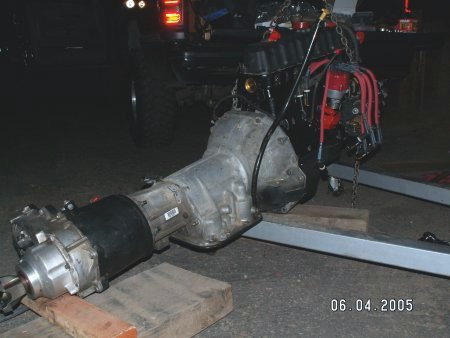 Conclusion:
I'll be honest we had one hell of a time getting our new engine running good. It was nearly a 3-month headache researching different problems we were experiencing. The engine would run but it just wasn't running properly and the check engine light would remain on. It wasn't because of anything that Golen did or how the engine was set up. It was faulty engine sensors, and wiring issues we struggled with for months. In fact we almost replaced every sensor on the entire engine trying to resolve some conditions we were experiencing. Needless to say when we did get the wiring issues resolved the engine ran amazingly. The power and torque is far more substantial than the old engine. This stroker pulls hills like its nothing, it'll grab any gear you want and just continue to pull. Its very responsive as well with a jolt off the line it'll even rip my 40" tires loose if your not careful. It idles smooth, rev's fast and most importantly runs clean enough to meet California's tough emissions. We are still breaking this engine in with only 400 or so miles on it. It'll continue to gain power as the engine breaks in.

The engine swap overall wasn't as difficult as I anticipated, it was frustrating as far as sensor problems. Fortunately Actron provided us with a Auto Scanner that pointed us in the right direction. click here to read the Actron Product Review. For more information about Golen Engines line of replacement Jeep engines check out there website or give them a call. The customer service is far beyond any company I've ever dealt with. Excellent tech support as well. Thanks again Chad for all your help!

5,000 mile update:
(added 3/30/08)
Our stroker engine has continued to increase in power as it breaks in. I've never been happier with the power! Even with the automatic transmission it really comes alive. Still surprises me sometimes how well it continues to pull while coming up grades.



10/23/09 revisit:
This engine has continued to run strong and flawless. Fires up first crank. Power seems to be about the same, strong and peppy. Just redid the entire exhaust from the header back due to the 1-ton swaps. Wrapped the whole exhaust minus the cat & muffler in black DEI heat wrap. Reduced floor board heat considerably. The jeep is due for another crappy california smog test. Confident she'll pass but always in the back of my head during the smog check. This year California added a nitrogen fuel tank pressure test. Another hoop to jump through.


Contact Information:

Our Rating




GOLEN ENGINE SERVICE
Phone #
(800) 591-9171
(603) 886-3800