Introduction
Project Rock Spider has been undergoing some major changes this last year including cutting the Jeep in half and lengthening both the frame and body. After this project was completed I started looking into automotive paint to refinish the stretched tub and apply a fresh coat to the 25 year old paint. Because I have never done any body work, only body damage :) I needed a beginner friendly product that will aid in achieving a quality finish. AutomotiveTouchup offers a perfect solution for people like myself on up to professionals. In this article I will go over the steps taken to repaint my Jeep in a garage with minimal tools and no automotive painting experience.
About AutomotiveTouchup
AutomotiveTouchup has been around for over a decade creating professional quality automotive paint for people of all levels of experience. They offer precision-matched touchup paint in aerosol cans, bottles, pens and also pints, quarts and gallons depending on what your projects needs are.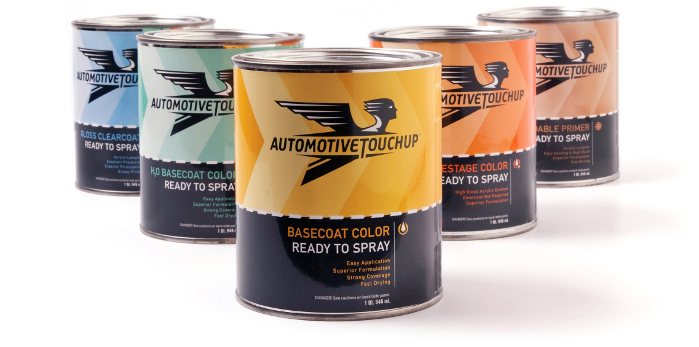 What products we used
I debated on going with the aerosol cans to coat the rear corner armor but later decided it would be better to just spray the entire Jeep with a fresh coat. It was unlikely the new paint would look anything close to the 25 yr old oxidized and weathered factory paint that remained on the rest of the Jeep. For this project we decided to attempt our first and certainly not last automotive paint job. AutomotiveTouchup offers an entire lineup of "READY TO SPRAY" products from Primers to Basecoats and Clearcoats for the Do-it-Yourselfer. What this means is the paint it literally ready to spray right out of the container using a HVLP spray gun.
For this project I used the following AutomotiveTouchup products along with some other materials listed below.
Parts List
2-quarts of Ready to Spray Sandable Primer
2-Quarts of Ready to Spray Basecoat
2-Quarts of Ready to Spray Clearcoat
Other Materials Used
Plastic sheeting
Masking tape (3-rolls)
Sand Paper (Various grits)
Mixing Sticks
Acetone
Project Rock Spider with the new tub section attached and ready for paint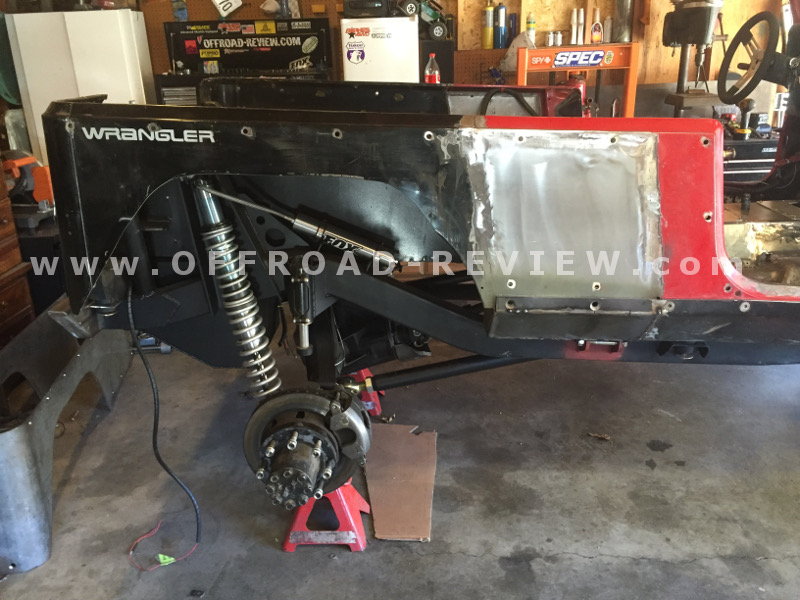 ---
Before I go on id like to mention this paint project was performed in a 3-car garage with a homemade paint booth using plastic sheeting draped from the roof. Like many of you I don't have access to a paint booth so I make do with what we have and get creative. To top it off it's winter and the temperatures were in the mid 40's during the day and 20's to 30 degree weather at night, needless to say not optimal conditions for automotive painting but doable.

Prep Work
The Jeep was stripped of the steel body armor, hood and tailgate. All of the parts that had factory paint received a good sanding with 320 & 600 grit sand paper to scuff the surface. I then used Acetone and cleaned each part of the Jeep several times until the paint was dull and the rag was clean. The bare metal on the rear corner armor was sand papered with 320 grit along with some light wire wheeling with a fine wheel and a 4-1/2" grinder. I was careful not to get carried away with the wire wheel because any major scratches could show up under the finish but at the same time a rougher surface makes for better adhesion. The bare metal parts were also thoroughly cleaned with Acetone.
---
Paint Day
The previous day was spent prepping the Jeep for paint and getting familiar with the instructions and new HVLP gun I picked up a Harbor Freight. I didn't want to rush both stages into one day because this was my first paint job and I was still learning as I went.
Primer
- I was now ready to apply a coat of AutomotiveTouchup's "READY TO SPRAY" Sandable Primer. Of course I shook the can up well before pouring it into my HVLP (High Pressure Low Volume) spray gun. With the pressure on my 80 gallon compressor set to 30psi I began applying the first coat onto the bare metal surfaces. I applied 3 light coats using a 50% overlap on each pass. The finish turned out nice and once it was dry I did some very light sanding to ensure the surface was free of any lint or dust particles before applying the Basecoat. Below you can see the rear section of the Jeep with a light first coat of primer applied.
Basecoat
- Now having some practice applying paint with a HVLP spray gun I was ready to begin applying the "READY TO SPRAY" Basecoat. Again using a 50% overlap method on each pass I applied 3 wet coats on the entire Jeep. The paint applied very well and had no runs believe it or not, I was very pleased with the results. I waited about 15 minutes between coats. Once the last coat dried the Jeep had a dull or matte red finish. No deep shine yet, that comes with the clearcoat. Below you can see the dull red base coat before applying the clear coats.


Clearcoat
- Before applying the "READY TO SPRAY" Clearcoat it's important to allow the Basecoat to fully dry. The Basecoat will have a dull finish when it's completely dry which took about 30 minutes on the last coat just to be safe. Once the Clearcoat goes on it brings depth and shine to the red color. Because I was applying the clear slightly slower and thicker I was only able to get 2 coats out of the 2 quarts I had on hand. Another quart would have been nice but none the less the paint job shines like a new car. No runs or uneven area's I couldn't be happier with the final product considering it was my first paint job.
More Pictures During Painting


Conclusion
As I mentioned this was my first automotive paint job and I must say I am pretty happy with the results. My main objective painting the Jeep after the body and frame stretch was mainly to get the entire jeep at least the same color or shade of red. The front portion of the Jeep that was untouched on this project remained the stock factory paint that has spent most of it's 25 year life in the California sun and has been oxidized and weathered. The new paint shines like a new car but that wont last long off-roading.
For more information about AutomotiveTouchUp products check out there website or give them a call.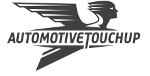 Microfinish LLC
208 Plauche Ct
New Orleans, LA 70123
Phone: 1-888-710-5192
Website:
www.automotivetouchup.com