Ice Testing - Grizzly vs. "Common folk" Cooler
We decided to compare the Grizzly to a like size cooler we picked up at our local hardware store. The cooler is a common run of the mill Coleman unit we picked up for around $40. Both coolers were filled with (2-1/2) 20lb bags of ice and left outside in the sun for a duration of 7 days. Average temperature ranged from high 60's in the evening to mid 90's in the afternoon. During the test each cooler was opened 10 times a day simulating a average use while camping or off-roading. After 2 days it was obvious that the Grizzly was retaining the ice better than the Coleman. Day 3 and 4 was even more obvious with the Coleman becoming low on ice and high on water content. The Grizzly was showing signs of ice melting but not as much as the Coleman. By day 6 the Grizzly still had some ice while the Coleman was pretty much done with some lingering ice pieces in a pool of water. The Grizzly also had a good amount of water but the amount of ice was considerably more.
Day 4 and still going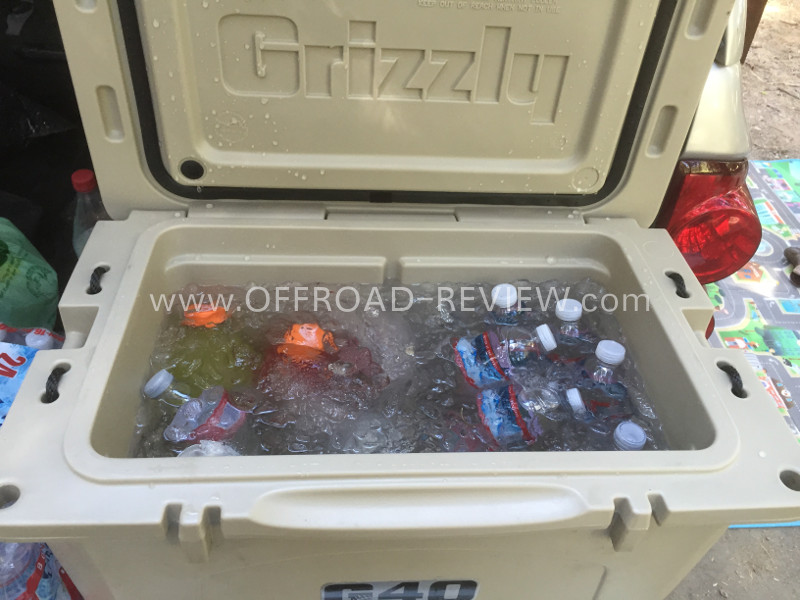 PHOTO GALLERY
Conclusion
Aside from our testing we've also taken the Grizzly cooler on a few camping trips and have been pleased with it's ice retention. The G40 will keep ice for most of a 7-day camping trip with a little added near day 5 or 6. What I like most about the Grizzly cooler is how much stronger and better it's built. It's very noticeable right off and I can see why they back it with a lifetime warranty, this thing is extremely well built and stout in every aspect. It's makes my Coleman cooler look and feel like a flimsy piece of junk, but it is considerably less cost.
Dislikes, the Grizzly is much heavier than the common coolers due to it's far thicker material and design. The cost is about 8 times what you will pay for a cheapo cooler but you'll be buying a lot more of them down the road.
Overall im very impressed with the Grizzly cooler, it's far superior to any other cooler ive owned. For more information about
Grizzly Coolers
check out there website or give them a call.

1712 Moellers Drive
Decorah, IA. 52101
Phone: 563-382-9636
Toll Free: 800-553-0050
Fax: 563-382-3016
Website:
www.grizzlycoolers.com