Notching some tube
I have been doing some serious fab work on Project Rock Spider and have come to a point were it was time to start building a roll cage. The TN-250 got very well used during this review with roughly 50-75 notches. Having built a number of roll cages and plenty of tube work I am familiar with notching tubing whether that be the hard way with a 4" grinder and chop saw or with a tube notcher. Having the TN-250 was an absolute time saver and pleasure to use!
Notching Tips
- Determining your angle and depth of the notch is the hardest part. Take your time and notch a 1/2" longer than you think it needs to be and take a little more each time until it's good. It's no fun when you make a cut a 1/4" to short.
- I cut off any excess tubing a leave a little more than half the diameter of the tube being joined too. That way the notcher isn't ripping a full circle through the tube.
- Use lot of lube such as WD40 or cutting oil. This will make your notcher work smoother and will save the life of your blades.
- Keep a 4" grinder or pneumatic cut off wheel handy if your doing severe angle notches because hole saw blades are too shallow in depth and will bottom out before you make it through the other side. You will need to cut off part of the notch and then continue through.
- I make a line with a sharpie on the top of the tube running parallel at both ends of the tube. This helps if you need to take a little more off the notch or if your notching both side of a tube.
More TN-250 Pictures
Clean consistent notches every time! Notice the 6-feet of unsupported 2" DOM easily being held by Baileigh's patented radial vise.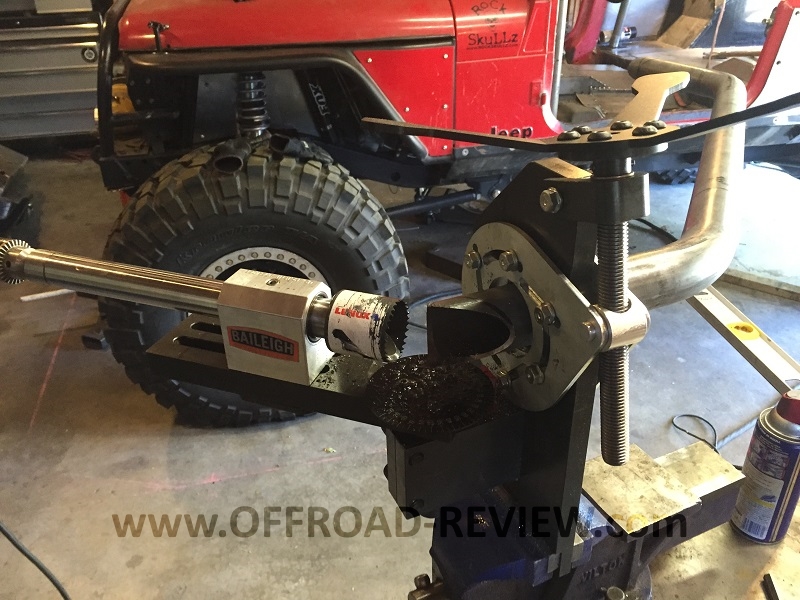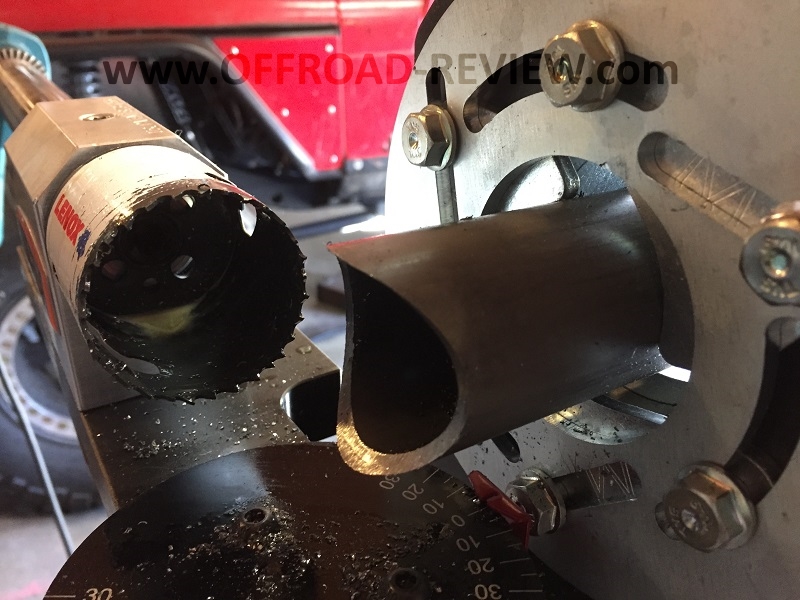 PHOTO GALLERY
Conclusion
Well after a few weeks of building a roll cage, tube fenders, tire carrier and other parts we really put some miles on the TN-250. I would say we notched about 100 notches after you take into count 1-4 notches for each piece of joining tubing. The
Baileigh
unit kept up with us with ease providing perfect notches every time. I am rather impressed with how overkill this notcher is. This beefy notcher doesn't move at all when your ripping into a notch. I especially like the T-handle radial vise which holds the tube with some serious kung fu grip and is very easy to operate. You can really cinch down on the vise with 1 hand while your holding the tube with your other.
Overall im extremely happy with this notcher, The TN-250 is an absolute Monster and although more expensive than the cheaper notchers on the market I truly feel it's worth every penny. You can't even compare this notcher to others on the market. If the price tag is too much for you take a look at the Baileigh TN-210H.
For more information about
Baileigh Industrial
products check out there website or give them a call.

Baileigh Industrial
Phone: (920) 684-4990
Website:
www.baileigh.com