Introduction
Diesel trucks are becoming increasingly popular in the US and have shown great interest by the average consumer not just the business owner looking for a pickup with superior towing capabilities. One thing you may not know is that although the modern diesel engines may be designed to last 500,000 plus miles but the components around it will likely die off and need to be replaced prior to seeing those high mile marks. One example of that is in longevity of their fuel systems. Diesel fuel is dirty and has solids and water mixed in with it, some worse than others, so you never know what your getting. A good fuel filter can take care of that before it does any damage. Of course you may say that you replace the stock fuel filter regularly and therefore your Ok but that's not the case. The factory fuel filters on Dodge, Ford and Chevy trucks simply don't filter down to a small enough particulate size. What this means is small particles of dirt are still passing by the filter and into your lit pump & injectors. That is where the real damage is occurring whether you know it or not. These particles wear on the internals of the pump & injectors causing them to prematurely fail. As a result you end up replacing $2000-3000 + in injectors when it could have been prevented and those same injectors could have lasted several hundred thousand miles more.
Comparing the filter on our 2007 Dodge 2500 5.9L Cummins to the Fupro's Water Separator/Fuel Filter.
- Dodge filter:
7 micron (Factory recommends changing every 12,000 miles)
- Fupro System:
2 micron ("Not uncommon for filters to go over 50,000 miles")
What comes in the Fupro Kit
Fupro offers a number of kits but we chose Part # D3 ($255.00) which includes the Parker Racor 60 Fuel filtration base, bowl, fuel hose, fittings, filter/water separator with water in fuel warning light and sensor. Other kits include a fuel pressure gauge but we opted to go without until we were able to order a matching ISSPRO gauge. Below are some picture of the components that come in the kit.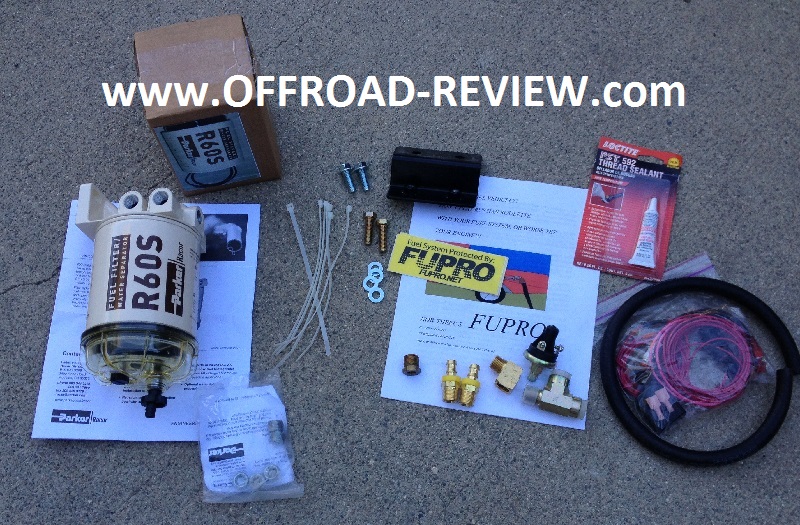 ---
Install
The install was done in a about an hour and a half from start to finish. First off was installing the supplied bracket that the fuel filter will be mounted to. The bracket can be installed anywhere on the truck but the most convenient spot and where Fupro recommends it is between the fuel tank and transfercase. There is a little bit of room there but make sure you mock up the filter with the base before drilling any holes in the frame. There is only a small room for mounting before you could potentially be interfering with things, at least that was the case with our short bed quad cab. Long beds and Megacabs likely have more room. Once confirmed we drilled the holes in the frame and secured the bracket with the supplied self tapping bolts. We applied some locktite while we were there. Once the brackets installed we began plumbing the filter base with all of the supplied brass fittings and sensors. After the plumbing was together we climbed back under the truck to begin surgery. We had to cut the fuel line (make sure your cutting the fuel supply line and not the return line). We used a common pipe cutter from a hardware store to complete the cuts. I would recommend a very small one because there isn't much room to spin it around between the frame and fuel line. Also I think it goes without saying but triple check your measurements before committing to cutting. Obviously this was kind of a messy job and I suggest having a small bucket or cup nearby to catch the fuel as you start cutting. Once the line was cut it was time to install the filter onto the bracket. I went ahead and used some of the diesel fuel to lubricate the outside of the steel fuel line for easier install of the rubber hoses. The kit comes with standard hose clamps but I opted to install 3 stainless steel tie wires per side instead. Below are some pictures of the filter plumbed in and under the truck. All that's left was running the wires up to the dash for the water sensor.
Pictures


Click on images for large v




Fupro kit installed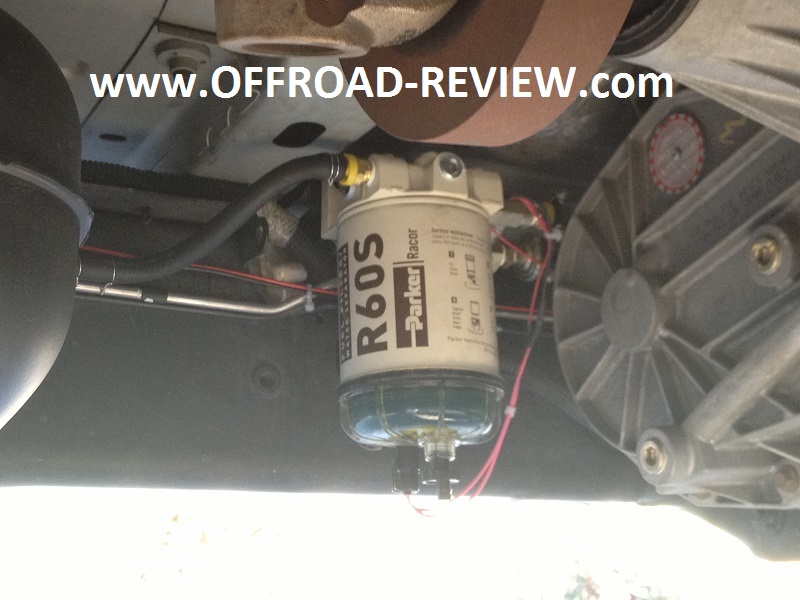 More Info
So I'm sure your asking yourself how often do I have to change these Fupro filters and where can I buy them. Well Fupro doesn't necessarily recommend a certain mileage range, a lot of that has to do with the quality of fuel your running. They do however say it's not uncommon for these filters to go over 50,000 miles before needing to be replaced. The filters don't have to be special ordered through Fupro as this kit is actually based off a very reputable and popular diesel brand called Parker Racor. The replacement filters can be purchased online or at a local retail store. Cost of the filters I found range from around $25-$35. Compare that to the cost of a factory filter in the neighborhood of $15-$20 and it won't be costing you but a little more in the end... or will it? You will be getting 3-4 times the mileage intervals out of the Fupro filter over the stock so cost difference is actually less.
PHOTO GALLERY
Conclusion
So I assume since your reading this article you have read about the damage that can be caused by trusting the stock fuel filter on these trucks and how much that can cost you in the future. Why the factory doesn't equip these trucks with 2-micron filters to begin with puzzles me, maybe they want to sell more truck. I don't know the answer but I think it's a very important mod to make to your truck sooner than later. Sure it's not a flashy or fun mod but your engine will thank you with hundreds of thousands of miles of more use.
Why we chose the Fupro kit? We'll the Fupro is a very thorough kit with with a few bells and whistles the other kits don't have such as a water in fuel sensor with light, very nice to have and it reminds you when it's time to drain the water. Another option is a pressure gauge that tells you when it's time to change the filter, again I nice little touch that keeps the guessing out of when it's time to change it out. I also liked the clear bowl which allows me to see any contaminants in the fuel. The kit we tested will cost you around $250, they make a less expensive kit for around $200 and the deluxe will run you right around $400. Either kit you decide to go with will amount to peanuts compared to what it will cost you to replace a set of injectors or lift pump, I don't even want to think about forking out for that bill. That's why its a wise investment to make now rather than later.
For more information about
Fupro Filtration
products check out there website or give them a call.

Fupro Filtration
Phone: (214) 797-8966
Website:
http://fupro.net