Conclusion
What can I say, I saved almost $500 on seats recovering my old ones and they look just as good as a brand new set. Couldn't be happier! The staff at PRP is always very friendly and helpful. They took me into the back and showed me examples of colors and once we figured out what I wanted the seats were ready to be picked up in less than 2-weeks. So if you seats are getting ratty looking don't sell them on craigslist for a few dollars, bring them into PRP for some restoration!
For more information about
PRP Seats
check out there website or give them a call.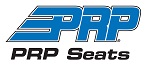 PRP Seats
27555 Commerce Center Dr.
Temecula, CA 92590
Monday – Friday,
9 a.m. – 4:30 p.m. PST
Website:
www.prpseats.com