Mastercraft Courser MXT


Off-Road Mud Terrain
Introduction
Last year at SEMA
Mastercraft
Tires announced the unveiling of their new Courser MXT. Featuring rugged side tread, large center lugs with both sipping and stud holes for winter driving. This tire was designed for mud and snow replacing their discontinued Courser MT tires we ran many years ago. These tires on the other hand are much more aggressive than the old MT's with absolutely no resemblance.
Mastercraft
went back to the drawing board and decided it was time to get serious if they were going to produce a mud tire again. The MXT is a much more extreme terrain tire than
Mastercraft
has ever produced.
Of course we had to have a set of these to go play with so we picked up some 37x12.5x17 MXT's fresh out of the factory weeks after their debut in SEMA. We've been running them ever since waiting for snow to fall but that's been a long wait here on the west coast were we've suffered some pretty heavy drought conditions this winter. None the less snow came and off we went to the back country to complete our last phase of testing.
Some of you may not know this but
Mastercraft
is actually a Cooper tire company, one of the largest manufactures of tires with several smaller brand tires like
Mastercraft
. We've ran several models in the past none of which were this aggressive and geared this much towards off-roading. I'm happy to see
Mastercraft
showing interest in the off-road market stepping it up a notch. And to prove their interest they decided to make the MXT ranging from 31" all the way up to a 37" size. Follow along as we take these tires through a series of tests and let you know how they performed.
First Look at the 37" MXT's!
I have to say if these tires work as good as they look
Mastercraft will have a nice tire to compete with. The aggressive side tread and center lugs have a great appearance not to mention the sipping and stud holes in the tread which is not commonly seen on a lot of mud tires anymore. Check out the picture below.
Sipped center tread with stud holes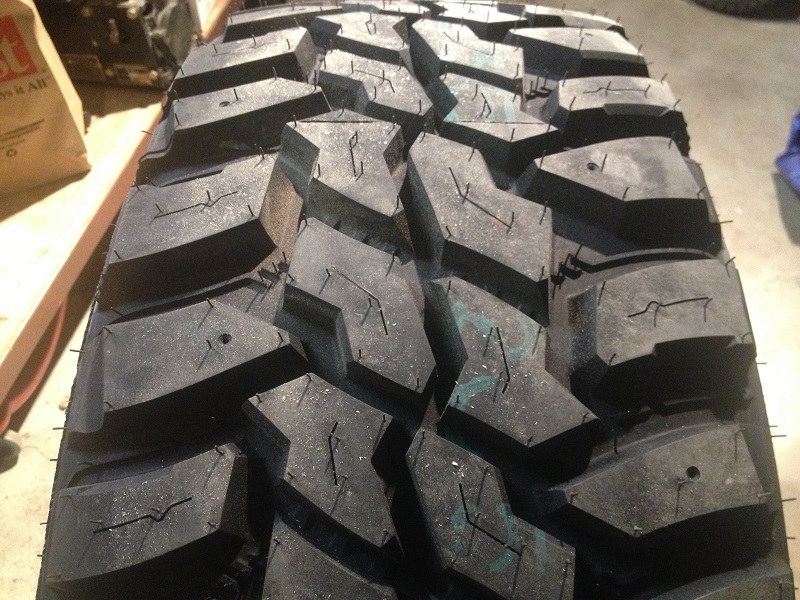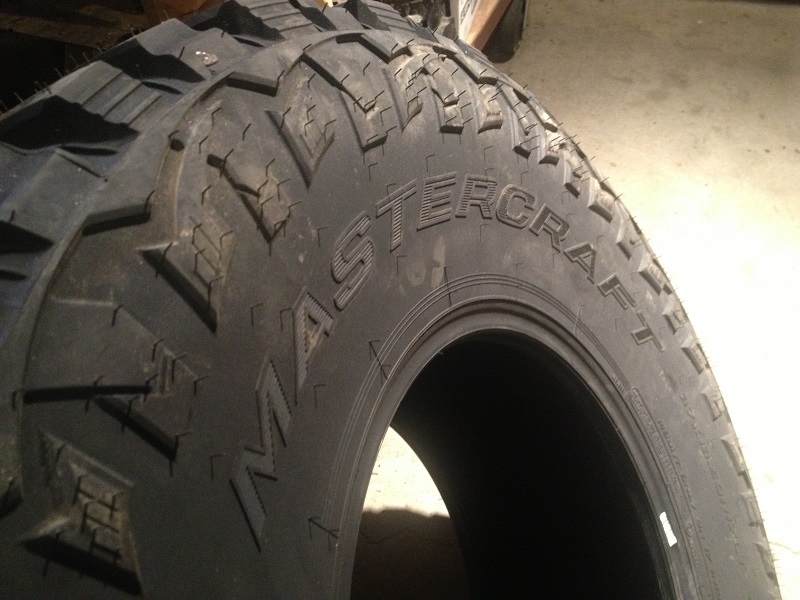 Spec's:
37x12.50R17LT, D Rated, Max Load 3525lbs.
Features:
- Optimized Void-to-Rubber Ratio
- Aggressive Upper Sidewall Design
- Large Shoulder Scallops and Traction Edges
- Wide Shoulder Grooves
- Full Depth Sipping
- Stud Holes
---
After taking the tires on a few road trips we were pleased with how quite they were on road. Maybe I'm getting older and it's starting to show but I get tired of listening to loud tires humming down the road for a length of time. It's ok for Project Rock Spider rolling 42's roaring down the Highway for a short distance but not for a tow rig or daily driver.
One thing I noticed and can't quite pin point the reason for is these tires pull slightly to the right if I take my hands off the steering wheel. An alignment was performed; the tires were rebalanced and rotated with the same results. I've had this happen on this truck with another set of tires so I'm not certain what causes it, maybe it's a Dodge thing.
Off-road Testing
We've been taken these tires out off-road through our local southern California mountains on several occasions. We like to hit the back country as much as possible and these trails provide a combination of fire roads, rutted and rocky trails ranging from all levels of difficulty, stream crossings and some mud on occasion. These tires worked well off-road once aired down. The sidetread provided good traction and puncture resistance while the large center lugs provided adequate traction in every scenario we tested them in. None of the conditions seemed to perform better than others, Just an all-around good performing tire off-road.
Snow Testing
After a very dry winter for us on the West coast we finally received some snow to go play in. We like heading out right after a storm to go cut first tracks. This year we received a few ok storms dropping anywhere from 6-12" of snow to do our testing in. The MXT's worked well in the snow. The tread pattern discarded the snow well never allowing the snow to stick between the tread. The stopping power was similar to most tires we've tested in the snow. You can only get so much traction before the tire locks and slides.
On-road Testing
On road we already mentioned the tires quiet performance at least for 37's. I have logged over 5000 miles on these tires and the noise level hasn't noticeable increased. The MXT is a D rated tire in the 37" size so we were pushing them pretty good under our 7500lb Dodge 2500. All in all they performed well on side roads and out on the highway. They have some increase in tread noise cornering but that's not unusual. We still can't figure out the slight pull to the right but it's very minor and not much concern of mine.
Pictures
Price
The 37x12.5R17LT's are priced around $250-$275 a tire which is pretty reasonable for a 37" tire. There's not many other 37's in that price range.
Conclusion
We've been running these tires for the last 5,000 + miles with plenty of testing ranging from open highways to snow and of course off-road. All in all I think
Mastercraft
engineered a great all-around tire. There not an extreme rock crawling tire by any means nor are they a street tire. I do have concerns of them being only 2-ply construction but we have yet to have a problem with them so far. I would consider these a good all-around weekend warrior tire for a guy with a Jeep, SUV or ½ ton truck who likes to hit the trails occasionally but is not trying to climb the hills nobody else can.
We will follow up on this article later on to report a long term mileage review. So far the tires tread has been wearing excellent showing very little tread wear.
For more information about
Mastercraft
Tires check out their website.

Cooper Tire & Rubber Company
701 Lima Ave
Findlay, OH 45840
Main Office: 419-423-1321
Consumer Relations: 1-800-854-6288
E-mail:

cooperinfo@coopertire.com
Website:

www.mastercrafttires.com