Lights Installed
As mentioned earlier we wanted to outfit our 2007 Dodge 2500 using a single row 20" LED Light Bar with Rigid mounting brackets on the front and a pair of diffused D2 lights for the rear. These are part #'s for the lights and brackets used.
D2 Diffused LED Lights (Flush Mount)
SKU: 51251
- Spec's: 3030 Lumens Each, Watts: 34.5, Amps: 2.50, LED's: 6
SR-Series 20" LED Combo (Hybrid Spot / Flood) Light SKU: 92031
- Spec's: 7500 Lumens, Watts: 75.9, Amps: 5.5, LED's: 8 Flood / 12 Spot
Dodge 2004-2013 Ram 2500 / 3500 Bumper Mount SKU: 40240
- Spec's: Stainless Steel Construction, Powder Coat Finish
Installation - 20" Light Bar
We started with installing the front 20" LED and Rigid mounts. The Rigid mounting setup is clean, strong and makes it very easy to sneak a powerful 20" single row light bar in a factory bumper without it looking out of place. Usually we prefer to custom make our own brackets but Rigid has already made a clean stainless steel mount much like the one we had in mind. Rigid designed this mount to work on factory mounting holes used on the factory front tow hooks which made the install a breeze. The mounts are sandwiched between the frame and tow hook with slotted mounting holes for adjustments. In order to mount the brackets we had to remove the front tow hooks from the truck. Once removed the light mounts and 20" light bar were installed along with the tow hooks. The light bar must be installed before tightening the tow hook bolts down. Rigid designed there lights to have studs rather than bolts. This is for security reasons and so someone can't simply remove 2 bolt and walk away with your light bar. Instead the thieving bastard would have to bring tools to remove the 8 bolts securing the tow hooks.
Wiring these lights couldn't be easier thanks to Rigid's wiring harness which includes everything you need to install the lights. They've already connected the relay, shrink wrapped the connections, simply run the positive and negative wires to the battery and connect your switch. Below are some install pictures of the SR-Series 20" light on our Dodge 2500.
Installation - Flush Mount D2's
The rear D2's were obviously a little more work requiring us to cut out holes in our bumper to recess them. We could have just as well ran there standard mounted lights under the bumper but it would look as cool?? And besides the flush mount ones won't get clipped by brush or rocks.
After measuring twice we tapped off our bumper with some scotch tape. Just because were cutting big holes in our bumper doesn't mean we don't care about scratching that shiny chrome finish :) We then traced the included template onto the scotch tape. Using a combination of a drill (for the corners) and a 3" pneumatic cut-off wheel we made the necessary holes in our Dodges factory bumper. A dremel was used to debur the edges and clean up the cuts. Before installing the lights we scuffed up the edges of the openings and sprayed them with some self-etching primer to protect the bare metal surface. The D2 lights were then fitted into the opening and secured using supplied button head stainless steel hardware. These lights look absolutely bitchen flush mounted into the bumper!
Wiring was just as simple as the front except for having to add length to the positive and negative wires on the harness. We added 15ft to each soldering and shrink wrapping the connections. We plan to later wire them to come on with the reverse lights but that has not been completed at the time this article was published. Below are some picture of the install.
Pictures

No turning back!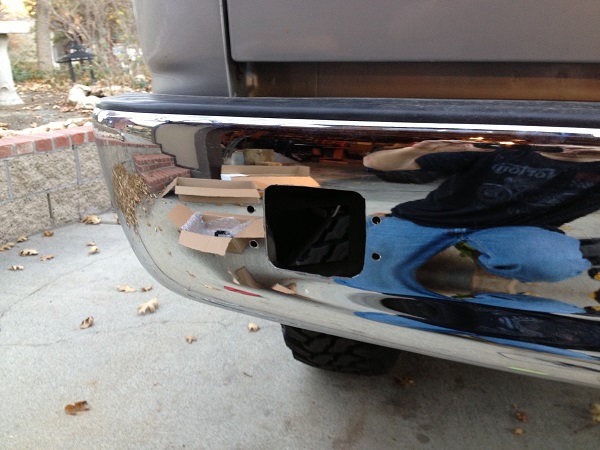 Lighting up the night
We took our new LED lights out for a test run that night after the install. As you can see in the pictures below the single row 20" puts out some pretty good light for a smaller sized light bar. More than adequate for what we use this truck for. If we were installing a bar on a desert truck or something were going to be hitting speeds that would be a different story.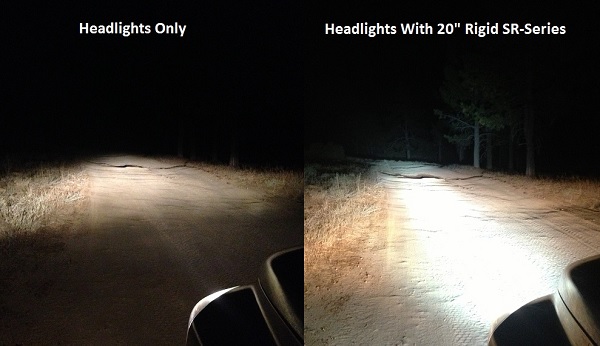 The Diffused D2's in the rear provided a very wide spread of light. Not as intense as the 20" light bar but evenly bright throughout the range of width which is exactly what we wanted. These little lights put out some lumens for their size and since they only draw 34.5 watts a piece I feel comfortable leaving these on for a length of time camping and out off-road with the engine off.
D2 Flushmount Diffused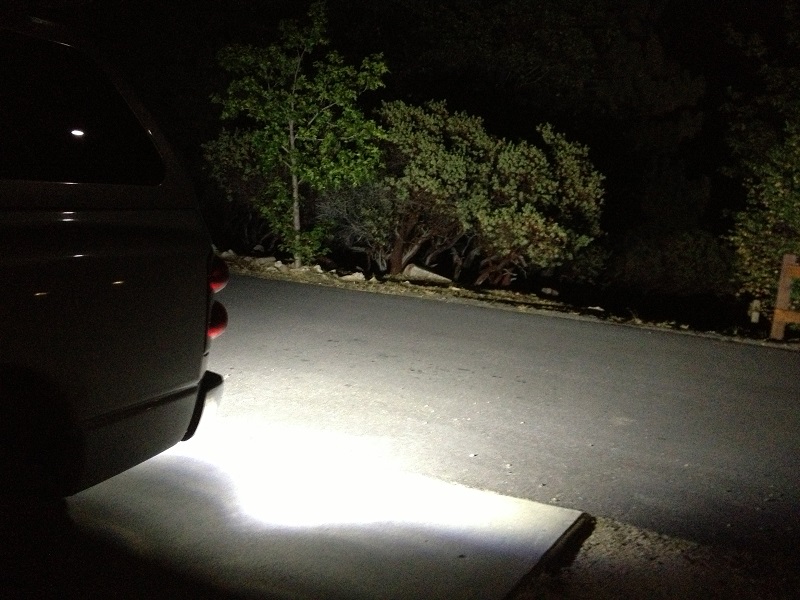 PHOTO GALLERY
Conclusion
We've been running these lights for the last 6-months now almost daily. With over 100-hours of use we have just barely touched that 50,000+ hour lifespan of the LED's. First off the intensity of the these lights is amazing. The 20" single row is a fairly small light bar when compared to the lineup. I'm not afraid to admit I was a little skeptical at first but to my surprise this lights are very powerful for there size. As you saw in the photo's it really lights up the night for a light drawing only 5.5amps and 75watts of energy. That same amount would have taken several 100watt lights and ton's more space on the bumper to achieve. The diffused D2's were exactly what we wanted for the back. The diffused lens scatters the light evenly in a very wide pattern. They work great for not only backing up but are great for camping and off-roading. The minimum energy draw from these lights allowed us to use them for hours at a time without draining the battery.
Last but certainly not least, The construction of the Rigid Lights is top of the line. Both the front and rear lights are very well built and should last the life of the truck. Each light is powdercoated black and all of the hardware is stainless steel. It is very evident that Rigid did not spare any expense producing these lights. Of course they are pretty expensive lights but they could very well be the last set of lights you install on your car. For that spending a little more money is worth it to me. I'm not one that likes to redue things on my rig because it wasn't done right to begin with or the product didn't last.
For more information about
Rigid Industries
products check out there website or give them a call.

Rigid Industries
779 N. Colorado St., Gilbert, AZ 85233
Phone: 855-760-5337
Website:
www.rigidindustries.com