Introduction
Do you ever wish you had a safe and secure location to store items of value in your car while your running errands or on vacation? With what seems like a constant increase in crime rates we felt it would be a good idea to have a secure location to safely store items of value along with a firearm for protection in Project Big Horn. This truck sees a good amount of traveling for vacation, daily driving and parts runs. Console Vault specializes in manufacturing a very clean, high quality and strong security console for many makes and model vehicles. Proudly made right here in the USA. With a clientele ranging from law enforcement, military, security personnel, business executives and more. All of their consoles feature one of three available locking mechanism's to suite your needs, one even meets CCW requirements.
Project Big Horn came equipped from the factory with a fairly stealth console beneath the front middle seat. Console Vault has taken that one step further converting this storage area into a highly secured lock box that keeps your valuables safe from thieving bastards. Nothing more frustrating than having something stolen from you.
Below we show a step by step install along with operation and our thoughts on the this console.
Items Tested:
Item Id# 1010 (Fits 2006-2014 Ram 1500 & 2500 equipped with an under seat console)
Features
- Constructed of cold rolled 12-gauge steel
- Precision welded
- High security barrel lock
- Black textured powder coat finish
- Spring Assisted Lid
- Made in the USA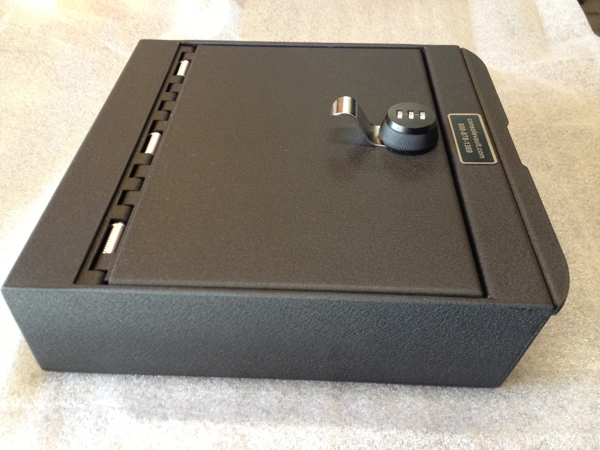 What comes in the Console Vault
When you order a Console Vault your buying a high quality product, this was evident when we were unboxed the console and began taking a closer look. First off the console comes coated with a black wrinkle finish powder coating for a long lasting durable finish. Constructed of 12-gauge cold rolled steel which if your not familiar with sizing is nearly 1/8" thick making for a very stout little box. All of the corners on the door are rolled and formed to make it difficult for a thief to pry open. Next is the spring assisted door that once unlocked automatically opens and stays open while you go about your business. It's small things like these that I notice and that tell me the R&D team spent a little extra time designing there product.
Lock Options

When you place your order Console Vault allows you to chose from 3 locking mechanism. Everyone has there preference mine happens to be less keys the better so I went with the keyless 3 digit combo lock. Other options include a barrel key lock and 4 digit combo lock. The combo locks feature a innovative design that allows you to set the combination anytime you want with thousands of possibilities.
Examples of the locking mechanism's below.
Lock Mechanism Options
Unboxing
The console comes packaged ready to go in including all necessary hardware to complete the mounting. In our case that meant two screws that were designed to go in the factory existing holes in our console. You also get a piece of carpet to lay in the console. Console Vault designs there systems so that no drilling or alterations are necessary to complete the install. See pictures below.
---
Installation
The installation was so quick and easy we hardly need a section on it but here goes. Inside our factory under seat console was 2 screws located at the front corners of the console. Remove these screws, drop in the Console Vault which fits perfectly and install the supplied longer screws. Next step place the carpet in the console and begin setting your lock. It literally took us longer to open the box and unpackage the console than it did to complete the installation.
Click on images for large view

Setting the Lock
The lock is very easy to setup. On the side of our combination lock there is a pin you press in using a paperclip or other like device. While in the unlock position press the pin and set the combination to your secret password and release. The lock is now set and can be changed anytime. See below
The locking mechanism although looks almost like plastic in the picture is actually made from high strength steel and has a very tight and firm feel to it.
Set pin shown on locking mechanism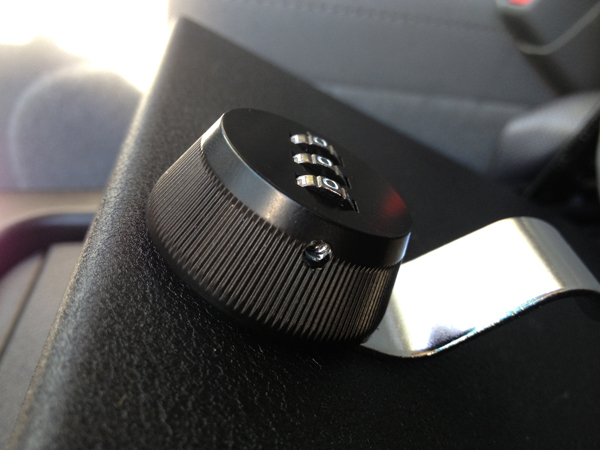 Conclusion
We installed the Console Vault in Project Big Horn several weeks ago and have absolutely enjoyed having the peace of mind of a secure location to store cash, valuable items or a pistol in our truck. We sometimes travel long distances with cash to make craigslist purchases, head to the junkyard or a cross country vacations. Often times that means going into Los Angeles or across several hundred miles with a considerable amount of cash. With the Console Vault we feel much safer parking our truck to run into a gas station, restaurant or any other everyday stops. We especially like how they designed the vault. It has virtually no way for a criminal to pry it open. The stout 12 gauge cold rolled steel makes for a very stout little unit. It fits flush into our trucks console like a factory equipped unit. So if your in the market for something like this I highly recommend calling Console Vault, you won't be disappointed with the quality & customer service.
For more information about
Console Vault
products check out there website or give them a call.

Console Vault
5000 West Oakey Blvd., Ste E2
Las Vegas, NV. 89146
Phone: 800-878-1369
Website:
www.consolevault.com