Installation
The good thing about the Al's Liner kit is that you can not only just roll it on, but you can get their optional spray gun and spray it on just like the pro's. The spray gun is a great way to do a fast and clean looking install. You can use different pressures to change the way it looks when its done. But there is a little more prep involved when applying because you have to pretty much cover everything that you dont want to get sprayed.
First thing's first. Remove all the hardware off the surfaces you plan on covering. The bed bolts are optional. You can just tape them off if you dont want to remove them, or you can just spray right over them. We removed the four lower tie down hooks from the bed sides because we have other plans for these later in the article. And if you plan on covering the area that the tale gate secures to, you are going to want to remove all the hinges and latches from there as well.
Once you are done removing hardware, you are going to scuff and scuff and scuff. This is probably the most tedious process of the whole project. Not to mention probably the most important. If you have ever heard a painter say "the best paint doesn't come from the paint, it comes from the prep," they are absolutely right. You want to make sure that every surface has scuff marks on it. It doesn't have to be down to bare metal, but at lease scuff the paint. This gives the bed liner a rough surface to hold on to.
After everything is scuffed and ready to be sprayed, wipe the whole suface with acetone or something of the like. This will clean any oils or debris from where you are going to be spraying.
Think you are ready to spray yet? NOPE! Well, at least if you plan on using the spray gun your not. For those of you that are using the special roller to get the job done, you may move on to the next step. For those that ARE using the spray gun, Now would be the time to start masking everything off (if you haven't already). This stuff kind of sprays everywhere so you want to make sure the whole outside of the bed is covered with either plastic or some kind of masking paper. If you are spraying over the top rails of the bed you are going to want to make sure those masking lines are nice and strait because where you tear off the masking is the line you are going to see going down your bed when it's done.
After all the masking is done you are ready to use the surface primer spray. This creates a tacky surface for the bed liner to stick to. You want to make sure the masking is done before this step because it can overspray on areas that you are not covering and will have to be cleaned off later.
NOW you are ready to spray. You will be mixing Part A,B,C, and the color pigment into the Part A container. Using the drill mixer, mix it slowly for a few minutes or until the color and texture of the mixture is uniform. From here you can either pour it into your paint tray and start rolling, or pour it into your spray gun and start spraying.
We decided to use the optional spray gun. Make sure the pressure is set to the desired pressure (anywhere from 25-45psi) and start by spraying a test piece or spraying a section that wont be seen very well. If your pressure is too low you will get globs coming out and it will end up very runny. I suggest start with a higher pressure and work your way down. We set our gun before we started spraying and for some reason the regulator ended up spraying way less psi that what we had originally set it for. So in the end a section of ours had a few runs in it. Clean up the mess and you are all done.
Pictures


Click on images for large v




Text about picture below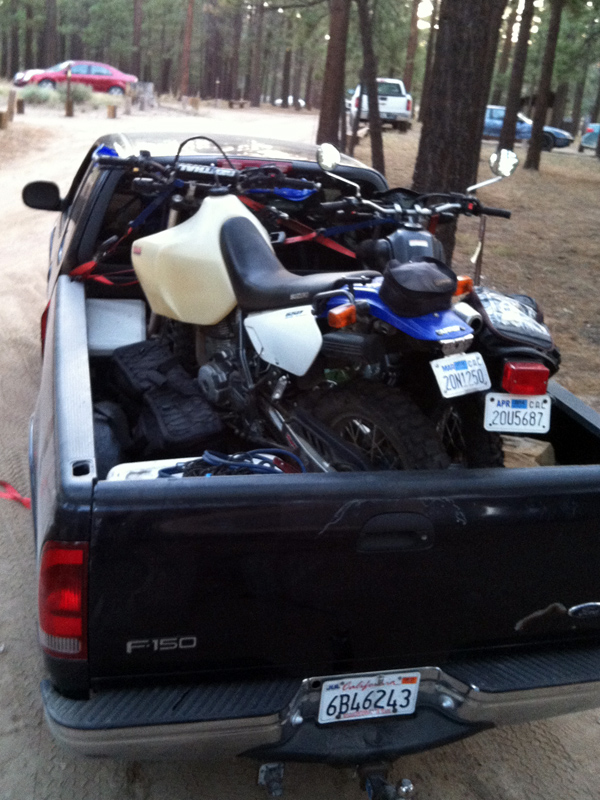 PHOTO GALLERY
First thoughts
It take a few minutes to really get a feel for how it lays down. I suggest starting at a higher pressure and turning it down from that. And keep checking pressure as you're spraying. We didn't realize that the whole time we sprayed the back wall of the bed that the pressure was WAY lower than we had originally set it to. Maybe the air flows a lot slower when there is liquid in the gun? Maybe our regulator was defective? I dont know. But if you are consistant at keeping track of the gun pressure, then you will have good results.
Another thing to look out for is how thick you make the different sections. Remember what areas are going to be taking the abuse. If you are using it as an undercoating, then you can lay it down pretty uniform. But if you are using it as a bed liner, you will want it a little thicker on the tailgate and bed of the truck, and a little thinner on the sides since they don't see much action.
Conclusion
The thing I like most about the Al's liner product over other DIY kits is that you have the option to spray it on. This makes for a nice even surface with variable textures. You can get a rough or semi smooth finish out of it just by adjusting the pressure running through the gun. Al's Liner has already held up to some decent abuse. It's been used as a work truck for about a month now with all kinds of tools and construction materials being thrown in the bed. And it has gone on a dirt bike camping trip with 2 dirt bikes and a ton of camping gear and firewood stuffed in the bed. The finish came out really nice, and has stayed that way so far (we will update later as it sees more use and abuse). It is hard enough to not get destroyed right away. Yet soft enough that when things are placed in the bed they actually stay put and don't slide around. Overall I am very impressed with how it came out and I am looking forward to using it on a lot more projects to come.
For more information about
Al's Liner
products check out there website or give them a call.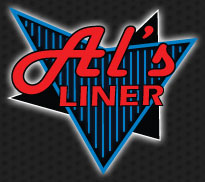 Al's Liner
6184 S US HWY 231
Cloverdale, IN 46120
Phone:
800.999.6841
Website:
www.alsliner.com