The JK Anti Theft Light Bar
There has been many different lights on my rigs over the years. Some cheap and crapy and some very good and expensive. The cheap ones don't last long. They either burn out bulbs frequently, the housings break, or they just don't put out the light that an off road rig needs. The expensive ones are great. They have good light output and sturdy watertight housings that don't burn out bulbs often. However, I have had more than one set stolen right off my bumper before. And if you do end up breaking one, you're out quite a bit of money. I wanted a light that was going to be bright enough and durable enough to be able to withstand the abuse my rig sees. I've been thinking about a way to mount a couple lights discretely behind the grill. This would make them harder to notice, and would take more than 2 minutes to undo a couple of nuts and clip the wires. When I saw the product that Fulkerson Fabrication had on display I knew I found exactly what I needed.
After meeting the Guys from Fulkerson at KOH I started telling them about what I wanted to do. The slightly confused but intrigued owner stayed in contact with me and we started brainstorming. What we came up with was a light bar that was discrete enough that you don't really notice at first. It's tucked behind the grill to keep the bumper clean and the kleptomaniac hands away from it. There is a total of 5 lights poking through the grill at around 200 lumens each. This provides a good amount of light without sacrificing valuable bumper space.
More on the LED's
Fulkerson Fab has an aray of different colors, styles, and mounting solutions for the pods that they sell. In its simplest form you can buy the "Builder Pack" for ~$45 and make your own custom light bar or even drill some holes in the bumper and mount them there and you wont need a light bar at all. Or you can buy their "Pro Pod" for ~$80 that is a single LED mounted in a strong 1 3/4" .120 wall tube that you can mount just like any other off road light. Or they can make you any length bar you would like from 4"-50"-100"...... ANY LENGTH YOU WANT, AND ANY SPACING YOU WANT! And you can customize your bar with spot lights or flood lights. They also have a number of different colors and defusers to choose from if you want to get fancy! You can use them as rock lights, backup lights, dome lights, under hood lights, you name it!
Like I said.... Versatile! Probably the most versatile lights on the market today.
They are built to last. The light itself comes 100% water tight in an aluminum housing with a grommet to mount them in. All you have to do is drill a 1 1/4" hole in whatever you want to mount them in, put the grommet in, and slide the light in. They are VERY tight and will never fall out on their own. BUT (now this is what I really like about them) Lets say you mounted them in your bumper and accidentally bumped into something. Since they just slide into the grommet, if it gets hit the light will just keep sliding through the grommet and stay safely inside whatever you mounted them in without getting damaged. All you have to do is pull out the grommet, pull out the light, put the grommet back in, and put the light back in. All without replacing a damn thing!
Pictures


Click on images for large view




Painted, Installed, And ready for action!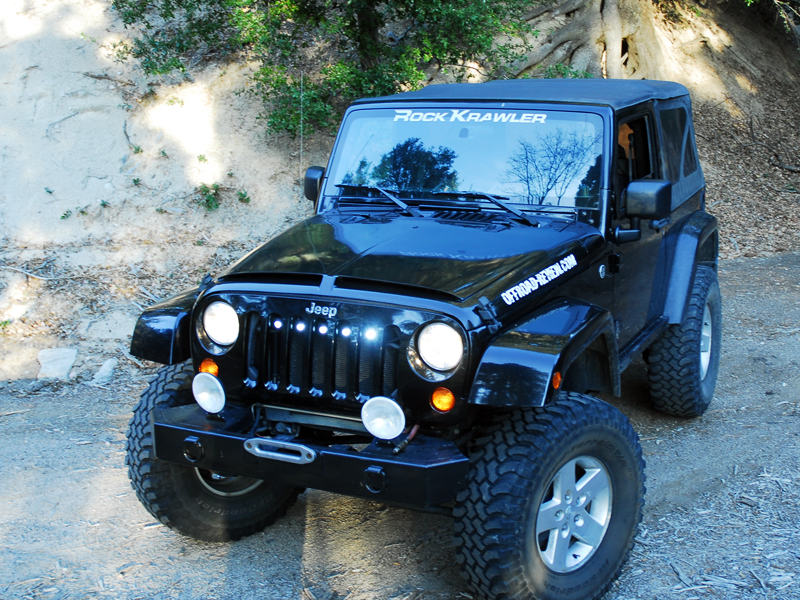 Low Beams with fog lights

LED's Only

LED's with low beams and fog lights
Pictures are hard to show how well lights really work. And these pics dont really do these lights justice.

PHOTO GALLERY
Upcoming Products
Fulkerson Fabrication is working on more unique and really cool products that we should be seeing by the end of summer this year. They are testing a 10 watt LED right now that puts out over twice the lumens that these 5 watters put out. They also have a switch pannel that they are working on that will have bluetooth capabilities. You are going to be able to turn on your lights and accessories with your smartphone!
Please read the update at the top of the article!
Conclusion
I REALLY like these lights. They put out a good amount of light, they are tough as nails, they are versatile, small, and power friendly so they won't drain your battery if you need to leave them on for an extended amount of time without the engine running. And best of all..... They are made in the
USA!!!
I do wish the beam pattern was a little more spread out, but really this is my own fault because I asked for spot lights without the defusers. If I were add defusers it would spread the light out a little more and give me some periferal lighting on the sides of the trail. But the setup I have is great for shining strait down the road as you can tell. These are an excellent light and I can't wait to get more of them to add to the Jeep.
For more information about
Fulkerson Fabrication
products check out there website or give them a call.
Fulkerson Fabrication
8590 Trenton Road
Forrestville, CA 95436
Phone:
707-820-1171
Website:
www.fulkersonfabrication.com