Introduction
We recently damaged the radiator on Project Rock Spider when the tranny mount came loose one day wheelin. Allowing the engine, trans and t-case to smash into the radiator. Obviously causing some damage to the back of the radiator but surprisingly not too bad and only resulted in a small leak. Mostly just pancaked the fins and chewed up some of the core. Fortunately not bad enough to deem a trail repair so we just headed home early. When I got back I started thinking about a new radiator setup. Something that would be better than before. I've always thought about ditching the belt fan and going electric. It does have benefits like quicker warm ups in the winter, less drag on the engine = more power, override option, etc. And top if off with a high performance aluminum radiator.
After doing some research I contacted
Wizard Cooling
out of West Falls, NY. They make some sweet aluminum radiator setups for several makes and model vehicles. But most importantly they make ones for Jeep Wranglers. Available in couple options including OEM replacement, V8 swaps, electric fans, custom shrouds, etc. There radiators are hand made 2.25" thick (2 rows of 1" tubes) providing maximum cooling which will be perfect for our 4.6L stroker engine. We ended up going with an electric fan setup. And due to minimal clearance we ended up going with a medium profile 16" puller fan from
SPAL
(Part# VA18-AP51/C-41A). Wizard uses nothing but
SPAL
fans for there products. A few weeks later this is what arrived! Awesome craftsmanship made right her in the USA!
A radiator that'll make you drool!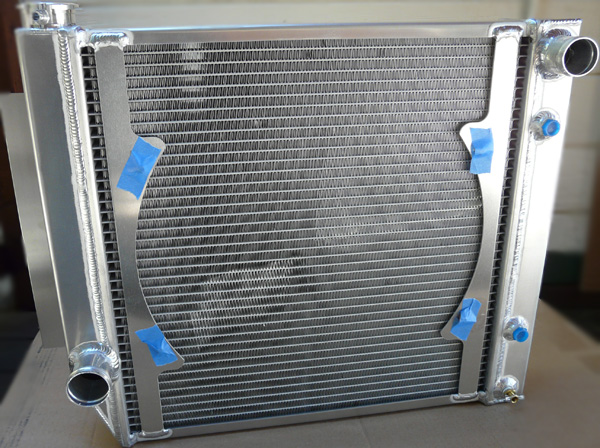 Click on images for large view






Shown below with the 16" Medium Profile
SPAL
electric fan installed on
Wizards
mounting brackets. A perfect fit and a breeze to install with the already installed nut inserts & stainless allen hardware included from Wizard.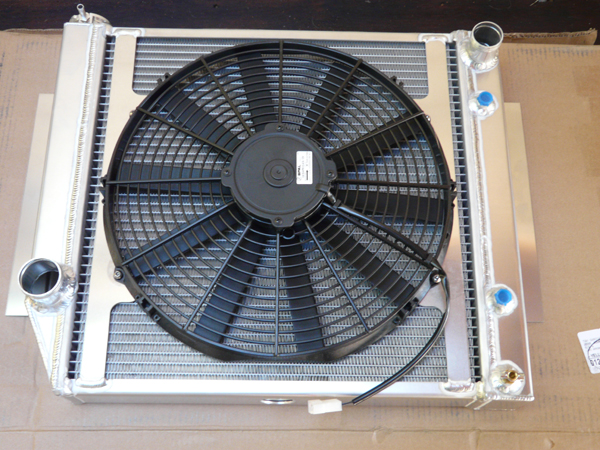 Click on images for large view






Out With The Old Radiator & Belt Driven Fan
Here is the old radiator in Project Rock Spider prior to removal. A 2-core steel replacement radiator bought to replace the stocker a while back. Make a note of how tall this radiator sits compared to the new one being installed.
Click on images for large view


The old radiator was yanked out and tossed in the junk pile. But not before we got a picture showing the new radiator next to the old one. Notice the blob of JB weld on the fins. Yes I did JB it when I got back so I could still go wheeling while I waited for a new radiator. It actually held up good and never had a problem. It allowed me a handful more trips this summer before taking a day to install the new one.

The old radiator was actually an aftermarket one we installed years ago. Don't recall the manufacture, just an OEM replacement. Did its job for a few years. The new one on the other hand will hopefully last double if not longer that the old ones life. I have to say the new radiator looks like something that you'd see in a hot rod not my scratched up Jeep. I guess it'll soon be dulled and weathered like everything else. Look how purdy it is :)





Dropping in the Wizard Radiator & SPAL Fan Combo
The radiator comes without holes drilled for mounting. I guess they allow you to mount it where you want..? Likely Jeeps aren't all exactly the same anyways. Better for me because I planned on trying to lower the radiator down a little. Something i've always disliked is how high the radiator neck and cap sit on stock YJ's. In a roll-over they can easily get smashed sitting up high. Which in turn could disable the rig altogether... Even with a grill hoop on the Jeep it is still vulnerable. I plan to later add an engine cage as well but as is planned on lowering the radiator for now. I was able to sneak the radiator down a ways because of
Wizards
mounting tab locations. The top is now flush with my grill support. All in all lowering the radiator roughly 1.5" - 2.0" than before. (shown below)
After drilling the mounting holes on the new radiator. (Measurements if anyones interested: Holes drilled to 5/16 @ 24-3/8" apart side to side) It was now time to carefully drop in the new radiator. I say carefully because we all know
how easy it is to fold or crunch radiator
| | |
| --- | --- |
| | fins when you touch them against anything. I didn't have a heck of a lot of extra room to drop it in so I just took my time. All the holes lined up perfectly this first time around so I secured the radiator to the factory grill mounts. |
Plumbing the Radiator
When we ordered our radiator we wanted it to include automatic transmission cooling to work with our TJ 32RH tranny currently installed in Project Rock Spider. This is important and much better than running an aftermarket cooling system for our transmission alone.
Wizard
takes the time to install threaded inlet & outlets for the tranny versus a tube / hose clamp system we were running before. Which is common on your average joe replacement radiators. We bought some brass fittings from our local hardware store to finish up plumbing in our tranny lines. The radiator coolant outlets are welded near the factory locations so utilizing the old hoses was not a problem.
SPAL Electric Fan Installation
When we chose our SPAL fan for this project we also had to decide what type of control we wanted.
SPAL
offers a couple choices from basic to advance programmable control systems. I wanted the simple one for just that reason... simple. Less to worry about on the trails and our Rock Crawler doesn't need all of the features of a programmable unit. When choosing a harness kit I made sure to take into account the current thermostat of our Jeep engine (195 degree). So we went with their 195FH degree harness kit. Which includes a temp sensor, simple wiring harness and a relay. This unit triggers the fan to turn on once the sensor reads a coolant temperature of 195FH degree's and stays on until our coolant reaches 175FH degree's. This setup has worked great for our Jeep stroker engine.
Click on images for large view




Short video of the fan running through a cycle - shortly after getting everything hooked up.
Conclusion
Well we've been using this radiator combination for about 2 1/2 months now. Its been on at least a half a dozen off road outings and has worked flawlessly since installing it. I would like to make a point in saying I was impressed by the quality & craftsmanship of the Wizard Cooling radiator. Very nice setup! As long as nothing unexpected happens, this radiator should be able to handle our cooling for many years. Same goes for the SPAL electric fan. I've heard great things about their fans and so far it seems to work great. It's got to in order to keep that stroke motor running cool.
The benefits talked about earlier like faster warm ups and more power are in fact true. I notice the Jeep warms up a little faster without the belt driven fan. This will be especially beneficial when winter hits and snow starts falling. Our 4.6L stroker is a little cold blooded as is so maybe this new combo will wake her up faster in the cold. As for power gains. I did notice a tad more power from the engine since its not being held back by the fan drag. Nothing to brag about but noticeable and always welcome. A little more responsive off the line is where I noticed it the most. All in all very happy with the new setup!
For more information about
Wizard Cooling & SPAL USA
products check out there website or give them a call.
SPAL Reference Material

195FH Fan
Harness Data Sheet
(pdf)

16" Straight Blade Medium Profile Fan / 12V Puller
(pdf)