Introduction
Bubba Rope recently introduced their line-up of 100% nylon braided tow straps. Developed from military spec's for superior safety and strength! Featuring a polymetric coating that is coated and heated for 24hrs in a heat locker, in turn coating the rope entirely with a water, abrasion & UV resistant solution. In other words the rope will last much longer and withstand the elements for which make nylon deteriorate. On the flip side the nylon design Bubba Rope uses allows for maximum flexibility. There braided tow straps allow for 15%-20% elongation in each rope. Thats roughly 4 feet of stretch for our 20-footer and 5-6 feet of stretch on the 30-foot rope. That stretching creates significant kinetic energy to enhance pulling power. Due to their braided inner & outer layers of nylon these ropes enhance both low & high weight pulling effects. The bubba tow straps act like a bungee. Also easing jerking impact during hard yanks. These ropes can be used for UTV's to heavy fullsize trucks. Designed and constructed for mud, snow, rocks, sand and anything you may find yourself stuck in.
Doing some bungee elongation testing ourselves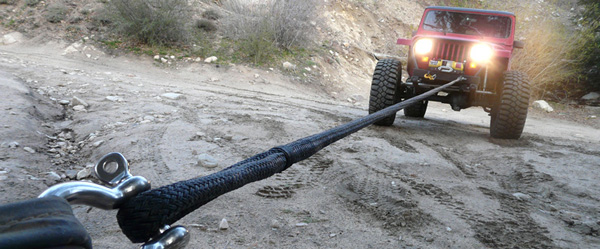 Ropes We Reviewed
We reviewed and tested one of each flavor Bubba has to offer. The smaller 7/8 diameter rope aka "Bubba Jr." & the huge 1-1/4" rope known as the "Big Bubba".
Spec's on Tested Bubba Ropes
Bubba Jr.

Big Bubba

Diameter:

7/8"

Diameter:

1 1/4"

Length:

Available in 20 ft. or 30 ft.

Length:

30 ft.

Breaking Strength:

28,600 lbs.





Breaking Strength:

52,300 lbs.




---
Bubba Ropes & Included Carrying bag
These stout nylon straps feature large diameter braided loops at each end for easy attachment to d-rings, hooks, bumpers & roll cages. Each Bubba Rope comes with an all-weather net material bag for storing the rope. The mesh material allows water & dirt to escape reducing any mold growth or other possibly damaging exposure.
The Bubba Jr & Big Bubba shown here side by side. Both quality tow straps made right here in the USA! The Big Bubba really lives up to the name. This tow strap is huge! (look at the first picture below) Designed for large to very large vehicles. Obviously that covers smaller rigs as well. Definitely a heavy duty strap though! While Jr. is respectable size itself, likely to be more commonly used for medium sized trucks, Jeeps, buggy's and other rigs. Check out some of the photo's below.
Click on Images for Large View
I know a lot of you are thinking why not just use a winch? And sure thats an option. But for me using the winch is more of a hassle and takes more time. Besides, a winch isn't always necessary. I always keep a tow strap with me because their convenient for quick yanks or pulls.
More on Bubba's
The Bubba Ropes were originally designed for pulling mud bogger rigs & trucks out of the mud. Here on the west coast we don't have a lot of mud to play in. Most of our off-roading is dry desert and mountain roads and rock crawling trails. With the exception of some snow wheeling and occasional sand. Im certain the Bubba Rope will feel right at home in these conditions as well. These ropes are what id consider a high quality product! As spec'd out, they do have a military look and design.
Rope Testing
We put these ropes through several pulls over the months. Which involved our Yamaha Rhino side x side, Project Rock Spider Jeep, Project Black Whole Jeep and a few Trucks. All of which had a great time getting stuck so we could test our ropes. When doing our tests, the Bubba's bungee like effect mentioned earlier really makes a difference in yanking power. I noticed it made it easier to unstuck yourself or a buddy in no time. The ellastisity of these ropes is incredible.
Click on Images for Large View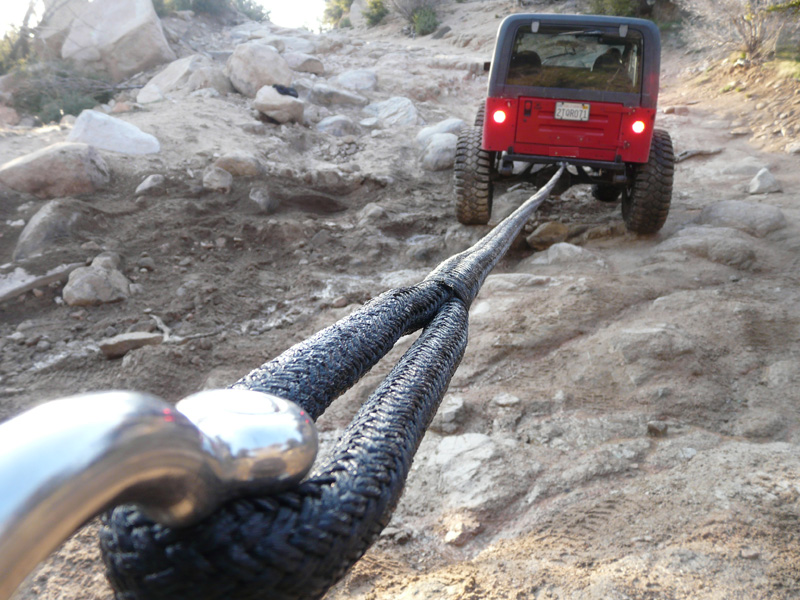 ---
Failed Rope Next to Bubba Rope
While doing our testing we wanted to also use our old tow straps to compare with the new Bubba Ropes. Funny enough, In doing some comparable yanking with our yellow tow straps we actually tore one in half. It was pretty entertaining to see that we obviously pushed that tow strap beyond its fail point. The Bubba however yes its nice and new did the same pull with ease and comfort I must include. Sorry to see the old yellow strap break on me. Its only been around a short time but its helped out a couple times.
Click on Images for Large View
| | |
| --- | --- |
| | Others Apparently Can't Keep Up With The Bubba! |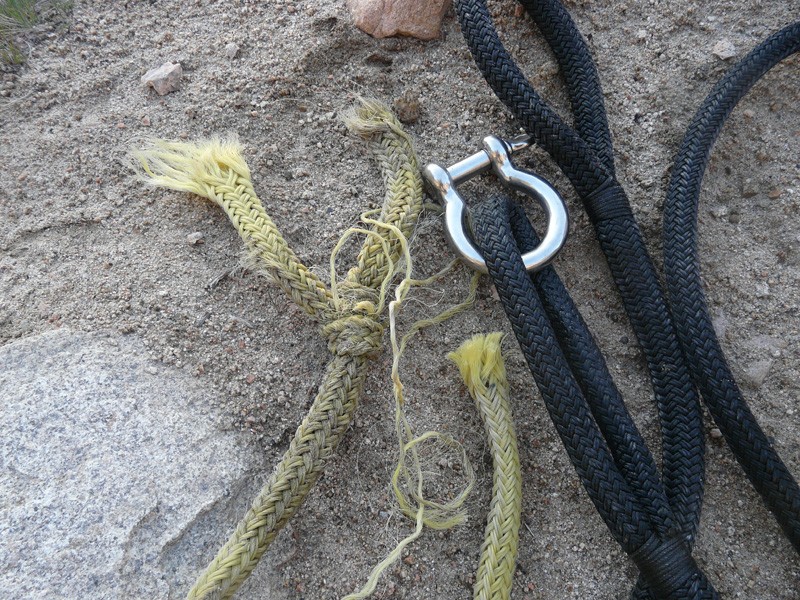 PHOTO GALLERY
Conclusion
We used these ropes a lot over the last couple months. And the entire time we were nothing but happy with the results of our Bubba's. The Bubba Jr. worked great for our side x side, Jeeps, & other medium sized vehicles. Probably the more common size between the two if I were to guess. The Big Bubba on the other hand is ideal for you guys with fullsize rigs & trucks. Both are a great addition to anyones on-board recovery gear. These tow straps really kicked ass as far as tow straps go! I know that may sound funny but I have a large appreciation for well made anything. And the Bubba's fit into that catergory! So if your looking for a sweet new tow strap give a Bubba a try. Tell us what you think.
For more information about
Bubba Rope
products check out there website or give them a call.

MADE IN THE

U

S

A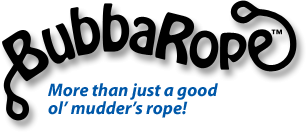 Bubba Rope
310 W Melody Lane
Casselberry, FL 32707
Phone: 877-499-8494
Website:
www.bubbarope.com