Installation
Installing the motor mounts and Super engine brackets was pretty straight forward. I've done a few sets of poly motor mounts in the past and there really isn't much to it. Only with the Super kit you swap out block side brackets as well. Not to worry, Brown Dog includes a nice set of detailed instructions with a step by step procedure even down to which side to start on first.
I was especially pleased with how everything lined up perfect and required no extra work like drilling a hole out slightly larger, etc. Brown Dog test fits all there brackets to ensure proper installation without hassle or modification. And this is entirely true, the bracket holes all lined up and threaded in like a breeze. To make matters even better, Brown Dog also provides all new Grade 8 hardware to replace all the existing factory bolts. As suggested we added a little red thread lock to each bolt prior to installation to ensure they don't back out later on. Each bolt was torqued to 40 ft/lbs of pressure as specified in the directions. Below are some photo's taken during the installation.
Installation Pictures


Click on images for large view
Before Brown Dog Mounts




(Super Brackets) Motor block mounts comparison & installation




Driver & Passenger side polyurethane motor mounts installed




Driver Side Super Bracket & 1" MML (motor mount lift)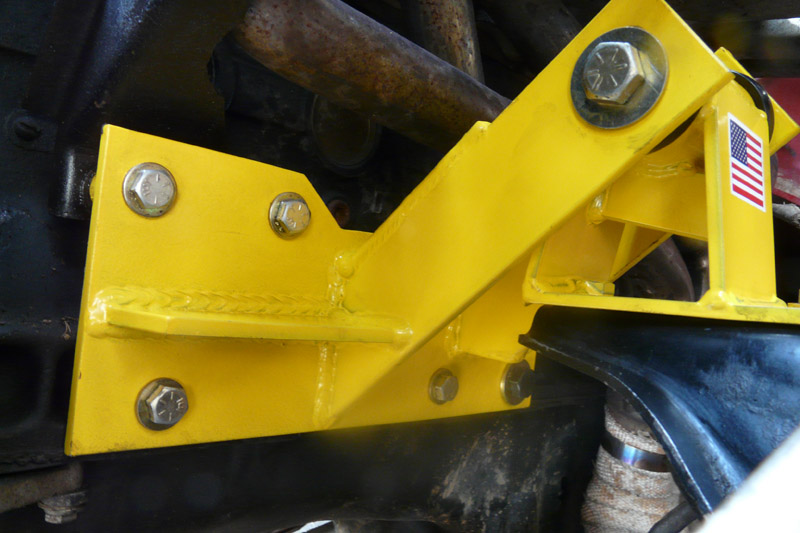 Passenger Side Super Bracket & 1" MML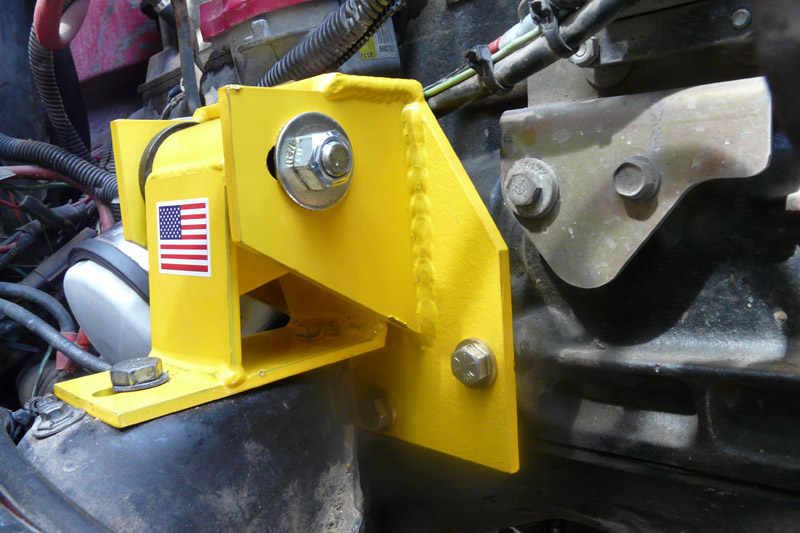 PHOTO GALLERY
More About Brown Dog Industries
Brown Dog Industries
is a relatively new company starting out building some engine mounts to replace the stockers that broke on there personal Jeep YJ. Word got around to other people and before they knew it, Brown Dog was developing and selling the industries first Super Brackets (Motor side mounts) and there popularity has taken off. Now available for nearly all Jeep makes and models ranging from YJ, TJ, XJ & MJ. Motor brackets for the following Jeep motors available in these vehicles. 2.5L, 2.8L, 4.0L, 4.2L & 2.1L Diesel.
Conclusion
After installing and using the polyurethane motor mounts & super brackets there was noticeable less engine movement without anymore noticeable engine vibrations than before, Surprisingly. The mounts were straight forward and simple to install. The overall strength increase over stock mounts is what its all about. In our case preventative maintenance before our mounts fail. I've had several people comment on the motor mounts and the robustness (if thats a word) of the super brackets. They definitely appeal to a crowd that hammer down on there Jeeps. I know I do and if you think about it, the inline-6 engine is kind of a pig when it comes to weight. Combined with the abuse from rock crawling, falling off ledges, bouncing up and over rocks to achieve an obstacle puts a lot of stress on the engine mounts from the block to the frame. So the extra stout super brackets on the engine block will allow you to rest assure those aren't a weak point any longer.
LIFETIME WARRANTY - MADE IN THE

U

S

A
To show confidence in there product, Brown Dog also includes a lifetime warranty if you ever damage there mounts. Nothing makes you feel more comfortable as a consumer than the manufacture backing there product line with a warranty like this. So if your in the market for some motor mounts be sure to check out Brown Dog Industries. There Super kit doesn't compare to anything on the market and you won't be disappointed.
For more information about
Brown Dog Industries
products check out there website or give them a call.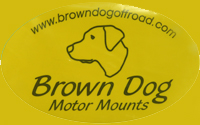 Brown Dog Industries
4026 E Wagon Circle
Gilbert AZ 85297
Phone: 866 401-3877 (24/7)
Website:
www.browndogindustries.com