Background
Over the many years playing in offroad activities there is a lot of things i've learned. One of which is theirs something to be said about being prepared for the unexpected. Obviously not everything can be prepared for but i'll never regret spending an extra few bucks on quality safety equipment, even if you never have to use it. I see it as no different than the parts I use on our projects. Quality parts last longer and will be less likely to fail on you when you need them most. Thats true with anything and I think most will agree.
Tip:
You may be surprised by the how many manufactures sell fire extinguishers to the public that are
not
UL (Underwriters Laboritories) approved.
We got the opportunity to talk with the folks down at H3R Performances about there product line. They have anything from small atv type extinguishers to large capacity commercial & professional fire suppression. I learned a lot about there products and general fire extinguishing technology. They have a knowledgable & helpful staff to help you determine what size and type of fire extinguisher would best work for your vehicle. H3R is recognized by many agencies such as commercial aircraft, fire fighting, motorsport racing, and more.
What are HalGuard Extinguishers?
Halguard Extinguishers are not like other extinguishers. They utilize a clean agent chemical called Halotron 1. This chemical is non-conductive so its safe to use on both electrical & gas related fires. In addition Halotron is a chemical which turns to gas rapidly and therefor leaves no dry chemical residue or mess to clean up after words. All of there extinguishers are rechargeable with there clean agent technology. Also be sure to check out H3R's "Maxout" line of fire protection. Another option for fire supression.
Pictures of the HalGuard Extinguishers
Optional Quick Release Billet Mounts
H3R makes these mounts available for flat mounting surfaces or tube mounting to roll cages, etc. Approved and widely used in NASCAR racing. The tube clamps are availble in the following sizes. 1-5/8", 1-3/4", 2" & 2-1/4" roll bar diameters. Although they don't currently offer it, I would also like to see them add the popular 1-1/2" size. For our test vehicle we chose to use the 1-3/4" for our Jeep cage and the 1-5/8" for the Rhino cage.
Operation of the billet mounts is simple and quick like it should be. To release the fire extinguisher, simply pull the quick release pin and the extinguisher is ready for use. Check out the pictures below of the different mounts.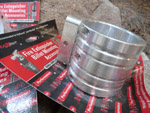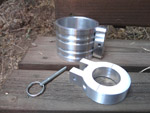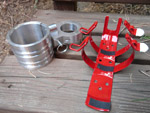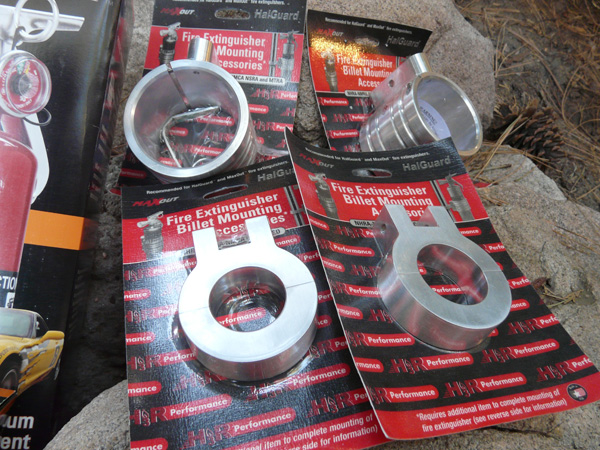 ---
Installated in our Jeep & Rhino projects
We went with the optional billet roll cage mounts for our project
Rock Spider
& Rhino. When they arrived I was impressed with how well they were made. The billet collars for the extinguishers were a snug fit. Definitely a solid mounting system.
Installed overhead on the passenger side of project
Rock Spider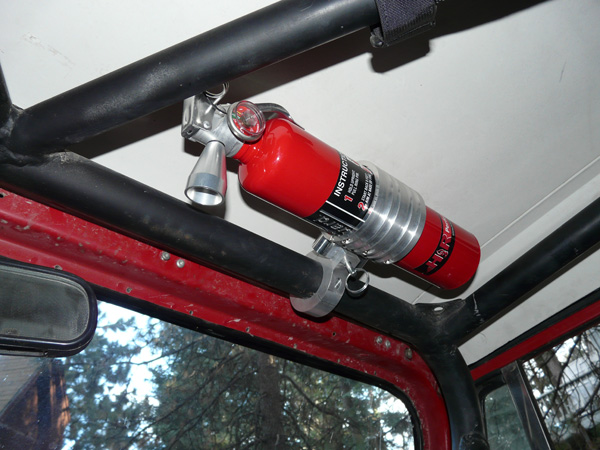 ---
Installed on the Rhino's roll cage
[ Picture of Rhino mounted extinguisher Coming Soon ]
More Information
H3R was very helpful in answering questions regarding fire protection for our vehicles. I learned more about the subject than I had ever known before. They also provided some helpful links below with great information about unapproved extinguishers on the market and more.
- Illegal fire extinguishers:

http://osfm.fire.ca.gov/informationbulletin/informationbulletin.php#2006
http://osfm.fire.ca.gov/informationbulletin/informationbulletin.php#2008
- H3R press release on illegal fire extinguishers:
http://www.h3rperformance.com/press_2006_03_20.htm
- H3R product brochure:
http://www.h3rperformance.com/download/H3R_Performance_3fold_aug22_2008.pdf
Conclusion
Finally our two most radically built vehicles are equipped with quality fire protection. Although its nice to think we'll never need to use these extinguishers, the reality is we don't know. For that matter I do feel more comfortable knowing these pricey offroad toys are equipped with Halotron charged fire protection made in the good ol' USA! In addition H3R products are UL approved. Overall we are very happy with extinguishers & mounts.
For more information about H3R Performance products check out there website or give them a call. There staff can provide you with excellent information for your application.

H3R Performance Inc.
Phone: (800) 249-4289
Website:
www.h3rperformance.com