Losi Mini Rock Crawler (MRC)



Custom 'home brewed' Tubed Jeep Wrangler Chassis

Page 1 of 4

---
Page 1
-
Page 2
-
Page 3
-
Page 4
This page was last updated:
11/22/08



* Finished Pictures on Page 3 (added 1/18/09)



Introduction

First and foremost the stock chassis on our Losi Crawler works pretty good and doesnt really have any flaws for the most part. Good shock positioning, light weight construction, etc. However, the fun and enjoyment of modifying something has ALWAYS appealed to me and for that reason this little crawlers gotta have a custom tube chassis. The design & build of a tube chassis appeals to me alone just being a long time 1:1 metal fabricator. The challenge of making a complete functioning tube chassis that fits in the palm of my hand will be a challenge thats for sure. In all honesty I dont anticipate my chassis working better than the stock chassis because it will likely weigh more. The reason for this chassis will be to bring our Losi Crawler into a more "Scale" look and functionality. Who knows though, it may work better...
Design
I made a few "to-scale" sketches for the initial length and width tubes starting with the dovetailed rear section that goes forward to the a-pillars. The width was the most crucial since im using a Bruder LJ Jeep Wrangler body I picked up on eBay for about 30 bucks (complete toy jeep). Kind of pricey for this project since I only planned on cannibalizing it for its hood and grill. Maybe the dash and steering wheel too but not sure yet.
Parts Used

1/8 solid steel rod picked up at the local
Home Depot

Brake line tube bender picked up at
Harbor Frieght

Also using a combination of other primitive ways of bending tubing with success

2mm harware for mounting skins and body panels

Aluminum remnant used to make the lower boat side rock panels
Products Used


Bruder 1/18 scale Jeep Unlimited Toy (body)


Mayhem Engineering 1.9 Aluminum Beadlocks

Proline 1.9 G8 Compound Flatiron Tires

CR/CC
5/32 Stainless Steel Bent Lower Links (Longer fronts)

CR/CC
3/16 Stainless Steel 1/10 scale steeing arms for Hitech 645mg Servo

Losi Steel Lockers Front & Rear (replaces plastic ones)

Losi Center Gear Steel Locker (again replaces plastic)

Hot Racing Driveshafts


3Racing Front Axle C's (removed blue anodizing)

3Racing Front Axle Steering Knuckles (same)


Losi Mini LST aluminum shocks (same)

G-Made 12mm Hex Wheel Spacers (removed red anodizing)
Progress Photo's
Added
11/20/08
Mock up of the hood and grill on the chassis. The grill needs to be shaved so that the hood sits down more. Hood pin allows the hood to open on a hinge. Might put the scale engine in but that will a detail later. Picked up some Losi LST shocks. The springs are a little stiff so I bought some softs incase I like them better.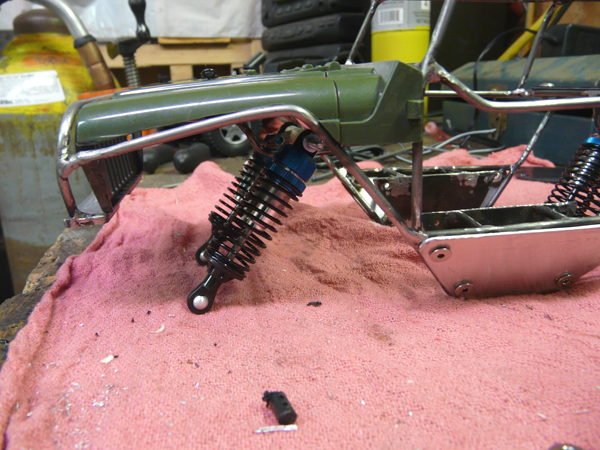 Made some new skids out of aluminum sheeting I had laying around. Cannibalized from a Radio Shack project box cover. Great think piece that super light weight. Might need to use button head bolts on these.

---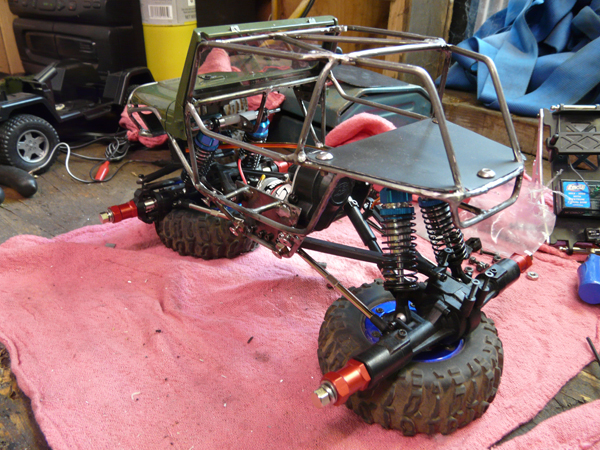 More Progress on the next page
Page 2
---
Other MRC Articles:
- Losi MRC Buyersguide Links Page
Click Here
- Losi MRC Press Release
Click Here