How to Spray Paint
Your Wheels Black



Tech Article
Introduction
Once the wheels on our Project Grand Cherokee got scratched up from offroading and just normal wear they started looking pretty ugly. Since the day I started this project i've always wondered what it would look like if we painted the stock alloy wheels black. I've always had a thing for black wheels over shiny wheels for as long as I can remember. So with an extra day to work on one of the projects I decided it was once and for all time to paint the wheels on Project Grand Cherokee. They look like crap anyways so painting them black can only improve things. First step was to go get some supplies. I went to the local auto parts store (Don's Auto) and picked up some paint and primer along with a drill attached scotch brite pad for roughing up the clear coat. Paint wise I went with a satin black because I didn't want them to shiny nor to dull. The chard look that the BBQ or flat black didn't seem like a grand cherokee look otherwise I would have BBQ blacked them. As for cleaning the wheels I picked up some cleaner called Kaboom, a "shower, tub, and tile cleaner". In other words harsh bleaching chemicals. It works well at home so I figured it will do the job cleaning especially while scrubbing with the rough side of a sponge. See the supplies picture below.
Supplies
- 1 corded or cordless drill, 1 scotch-brite drill pad, 2 cans of paint, 1 can of primer, Bottle of Kaboom, and a sponge.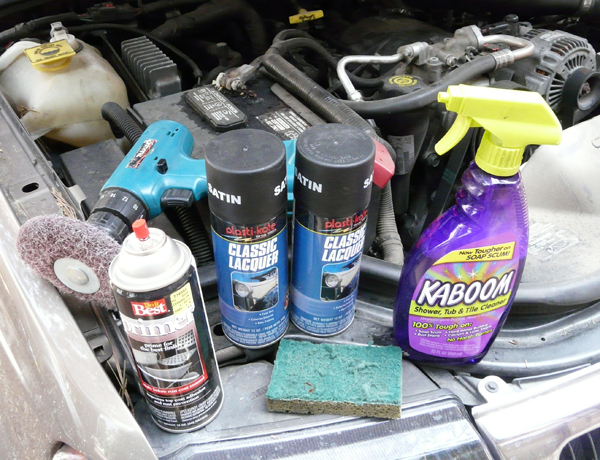 Prepping the Wheels
As mentioned above I have a few things im going to use to clean and prep the wheels before primer and paint. First step was to wash the wheels with soap and water. Just get the road grime off since I never really cleaned these wheels much. Now its time to start damaging the clear coat with some fine scratches while I scrub in some "Kaboom"! I started by thoroughly spraying the wheel with Kaboom, then letting it sit for a minute or so spraying a little more on here and there. Then I scrubbed the wheels with the rough side of a sponge scrapping them as much as I can. It feels like your only scrubbing to clean them but this combination really hammers the clear coat as you can see below.
Click on images for large view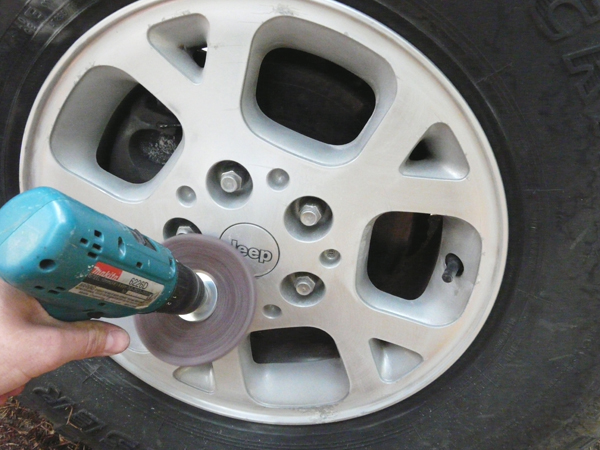 Prepping Cont.
After scrubbing the wheels with Kaboom and a sponge they came out really dull and had a natural aluminum color now. Definitly had no shine anymore. With that said I think cleaning wise the wheels turned out pretty well. And with the scotch-brite drill powered pad, the wheels were so dull and scratched up I was actually kind of surprised yet happy with the results. The wheels definitely looked like they were ready to have some paint sprayed on them. The dull scratched clearcoat finish is important to allowing the paint to stick well. I mean we can only expect so much since there spray painted but I've had great results painting our old zuki project with olive drab green spray paint. Same cleaning method except the scotch-brite pad and the paint lasted many years with just minor touch ups from offroading.
Mask & Paint Time
Now that the wheels have been thoroughly prepped it was time to mask them off and start painting. I opted to remove the tires from the wheels but that just seemed like to much work and effort for a "spray paint job". Heck I may as well powdercoat them if there going to be off. So needless to say I masked off the wheels around the bead so that im not painting the tires as well. Next I was ready to put the first primer coat on. One of two light coats I planned to use on each wheel. See pictures below.
Click on images for large view
Time for the Satin
Now that the wheels have two light coats of primer I let them dry for little while I was painting the other wheels. The Satin I picked out is from Plasti-Cote. I've had pretty good luck with there paint on other projects. If anything I use Rustoleum the most although they don't sell it very many places near by.
Just like the primer I like to start out with light coats just getting 80% of the wheel covered in paint before waiting a few minutes and getting a fuller coat on. Each wheel ended up getting 5 coats of paint. 1 light coat and 4 thorough coats not to heavy though. Last thing you want is some runny paint on your wheel. The hardest part of painting was making sure I got into all the little slots on the wheels. Its real easy to think you got everything until you look again. I found that spraying the slots at every possible angle covered everything pretty well.
Click on images for large view
Final Results
Turned out pretty good if you ask me. I like the satin finish because it still looks clean and new. The dull flat color just wouldnt look as good on a "nicer" car like the grand cherokee. I'll be reporting a follow up towards the end of the year to see how well they've held up. Post your comments or questions below.