---
Product Overview:
Miller Electric's Millermatic 220 welder:

When it comes to the best welders, plasma cutters, and other metal fabrication manufactures only one particular name comes to mind, Miller! For over ten years now I have been welding and fabricating tons of projects for both jeep needs and hobby welding. In my years of welding I've probably tried just about every brand welder on the market and in my opinion nothing compares to a Miller. The quality of craftsmanship is just a notch above the competitions. I have family members with extremely old Miller welding units that work 100% like they did when they were brand new. Please follow along while we test and review the heck out of this new Millermatic 220 welder.
In this article I am going to thoroughly test and review Millers popular Millermatic 220 Mig welder in both sport hobby welding as well as some automotive fabrication projects i've been waiting to start.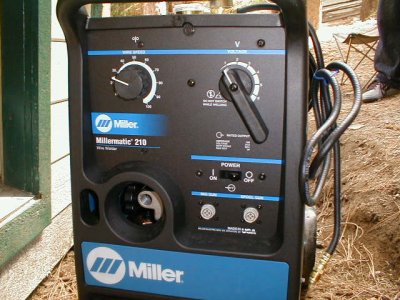 ---
I have already used the Miller to weld up a new custom roll-cage, new exhaust from the header back, Rear Bumper, Spare Tire carrier, offroad seat mounts, New shackle hangers, and more on project Rock Spider alone. I'm also currently working on a new winch mount, an aluminum custom front bumper, and a possible flat transfercase skid plate in the near future. This Millermatic makes fabrication projects a piece of cake, with capabilities of welding wide variety's of metal, aluminum and stainless steel guages.
The Millermatic 210 welding package comes with the following items:
Millermatic 210

Comes Complete With
Industrial Power cord and plug.
12 ft (3.7m), 250 amp M-25 MIG gun for .030/.035 in wire.
Factory-installed dual gas solenoids.
10 ft (3 m) work cable and clamp.
Argon mix regulator/flow gauge and hose.
Extra contact tips.
Factory-installed running gear/cylinder rack.
.030/.035 in reversible dual groove drive rolls.
Set-up and operation video.

(Information below was supplied by Miller Electric)

Seven taps provides wider welding range of 30-210 amps with improved high and low ends to weld materials from 22 gauge up to 3/8 in (9.5 mm) thick in a single pass.Easily accessible primary voltage switchover board for quick set up. Industrial, dual-gear-driven, cast-aluminum drive system features no-tool, quick-change drive rolls and an easy-to-set tension adjustment knob with a scale for consistent settings. Add the Spoolmate™ 3035 spool gun for aluminum welding. Easy to install with new, direct hook up. And with Miller's exclusive Gun-On-Demand™, simply pull the trigger for either gun and you're ready to weld. No time wasted toggling switches! Removable consumable compartment and access to wire drive system located under side door. Thermal overload protection shuts down unit if necessary to protect the machine. Reversible drive rolls with dual grooves allow one set of drive rolls for both .030 and .035 in wire. Built-in dual gun and cable holder for your MIG gun, spool gun and cables. 12 ft, 250 amp M-25 MIG gun features durable one-piece handle, unicable outer jacket, trigger rated for one million cycles, and steel spring coils protecting cable ends. Miller Exclusives Thermal Overload Protection - Internal components are protected from damage by thermal overload protection which automatically shuts down the unit if duty cycle is exceeded or air flow and cooling are restricted.


Conclusion:
Now that I've tested the heck out of my new Millermatic 220 welder I am totally impressed with its performance and capabilities. In the past week or two I've laid the best looking welds I think I ever have in my ten years of experience. No joke! This welder is amazing and I really like the aluminum and stainless steel welding feature,although I need some time to practice these :D

This welder is the perfect size for home or business use. With the capabilities of this welder you could start your own fab shop or just use it around the garage. Either way this is a tool you'll have for life, why not go with the best name in welding, Miller Electric.

I have already completed several projects with tons of new projects arising now that I have the capabilities of welding aluminum. More Miller projects to come in the future. Keep checking back with us.
Our Rating

Contact Information:


Miller Electric Manufacturing Co.
1635 W. Spencer St.
P.O. Box 1079
Appleton, WI 54912-1079
Phone: 920-734-9821